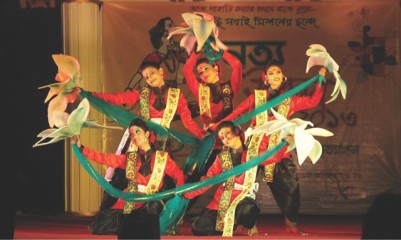 Dancers of "Srijanshil Nriyangan" perform at the programme. Photo: Anurup Kanti Das
Dance enthusiasts of the Port City enjoyed a programme, titled "Milechi Shobai Miloner Chhondey", at the local Shilpakala Academy last Wednesday evening.
The programme saw the stage debut of 'Srijonshil Nrityangan', a new dance troupe of the city, who also organised the event.
Speaking as chief guest, teacher of Chittagong University, Dr. Mohammed Gazi Salauddin, said, "Since the dawn of civilisation, dance has been used as a means of communication but gradually it became a significant part of culture." He also termed Rabindranath Tagore a "change-maker" in the sphere of dance productions in South Asia.
The programme started with a group dance to the Rabindra Sangeet, "Anandalokey Mangalalokey", led by Shahriful Islam.
The artistes went on to perform to a wide array of songs -- including Nazrul Sangeet, folk songs of Chittagong, Marma songs and patriotic songs -- showcasing a variety of styles.
Bonoj Kumar Majumder, Additional Police Commissioner of Chittagong Metropolitan Police (crime and operation); Wahidullah Sarkar, general secretary of Chittagong Port Trade Union; and Chowdhury Farid, Bureau Chief of channel i, Chittagong were present as special guests at the programme.