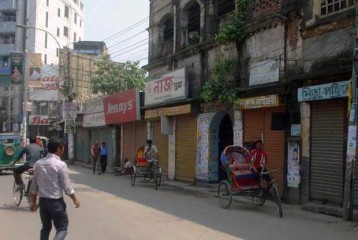 Roadside shops are seen closed while rickshaws remain idle at Zahaj Company intersection in Rangpur city during Wednesday's shutdown enforced by Islami Chhatra Shibir, a student wing of Jamaat-e-Islami. Photo: STAR
The daylong shutdown (hartal) in the 16 northern districts of the country is going on amid some stray incidents of violence on Wednesday.
Islami Chhatra Shibir, student front of Jamaat-e-Islami, called the shutdown in the districts of Rajshahi and Rangpur divisions demanding immediate release of party President Delwar Hossain who was arrested from the capital on Sunday.
The HSC and its equivalent examinations however remain out of the purview of the hartal.
The violence includes arson, removing slippers from rail tracks, blasts, vandalism, road blockade and detention.
At least seven vehicles were torched in Rangpur, five others vandalised in Pabna and four homemade bombs were blasted in Chapainawabganj.
Law enforcers also rounded up 33 Jamaat-Shibir men in Rajshahi, Naogaon and Pabna.
Shibir activists also brought out processions in different areas of Chapainawabganj and Naogaon.
No injury was reported till updating of this report around 11:00am.
The shutters of shopping malls in the divisional cities and shops in the district towns were down.
Educational institutions where the HSC and its equivalent examinations are not being held remained closed.
Vehicles were off the city streets and district town roads.
No long distance buses left or entered the towns during the hartal.
Rickshaws and several battery-run auto-rickshaws were seen plying on different roads.
RANGPUR
Jamaat-Shibir men torched four battery-run auto-rickshaws on Dhaka-Rangpur highway near Upazila Parishad office in Mithapukur around 6:00am, reported our Rangpur correspondent.
The pro-hartal activists also set fire to two trucks at the same time and venue. But, locals extinguished the blaze immediately after the incident.
In Bazar area of Pirgachha upazila, the Jamaat-Shibir activists also set fire to three auto-rickshaws around 6:30am.
BOGRA
Shibir men removed several slippers from railway tracks in Koichor area of Bogra town on early Tuesday disrupting rail communications between Bogra and Lalmonirhat districts for half an hour.
Workers of Power and Water Development Board rushed to the spot and repaired the railway tracks around 5:00am, said Assistant Sub-Inspector Hamidul Haque, in-charge of Bogra Railway Police.
A Lalmonirhat-bound train from Dhaka had to wait for half an hour due to the disruption, he added.
PABNA
Shibir men brought out a procession on Abdul Hamid Road in the town around 10:00am and vandalised at least five auto-rickshaws there.
Police also detained a Shibir man from Doibazar area of the town.
CHAPAINAWABGANJ
Islami Chhatra Shibir activists brought out a procession and blasted several homemade bombs in Rehaichar area of the town around 10:30am.
NAOGAON
Jamaat-Shibir activists brought out a brisk procession at Kathaltali area in Sadar upazila around 8:00am.
Police nabbed two Shibir activists while they were trying to picket in the area, said Mozammel Haque, officer-in-charge of Sadar Police Station.
RAJSHAHI
Activists of Jammat-Shibir put up barricade on roads at Baliamor roundabout of Syampukur area by felling trees in the morning.
Local people chased them away and cleared the road.
Shibir activists burnt tyres at Hadi intersection in the city.
The party activists also set fire to tyres near Rajshahi University of Engineering and Technology at Kajla around 12:15pm. As police reached the spot, the Shibir men fled away.
Different transports were seen plying normally on the district roads