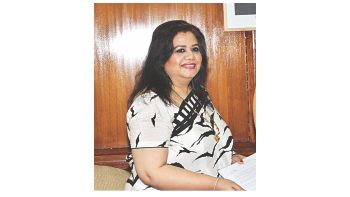 Celebrated singer Runa Laila has been made new Saarc Goodwill Ambassador for HIV/AIDS for the next two years.
She is the first Bangladeshi to be nominated for the post along with two others from India and Pakistan.
Foreign Minister Dipu Moni handed over the formal letter from the Saarc Secretary General to Runa Laila at the foreign ministry yesterday afternoon.
"I feel honoured to be the Goodwill Ambassador of Saarc for HIV/AIDS. I have long been involved with awareness creating activities of various social issues, including the HIV/AIDS," she is quoted as saying while sharing her feelings.
"From now on I will engage myself vigorously as there is still lack of awareness about this deadly disease in this South Asian region" she added.
Two other ambassadors are leading Bollywood actor Ajay Devgan and first Oscar-winning documentary filmmaker of Pakistan Sharmeen Obaid-Chinoy.
The practice of this honorary appointment of Saarc first started in 2008 as part of its work plan for the regional strategy for HIV/AIDS. The purpose of the programme is to engage regionally well-known personalities to raise greater awareness about HIV and AIDS in South Asia.
The ambassador's interactions with children and people affected by HIV and AIDS help remove the social stigma and discrimination against people living with HIV/AIDS.
Shabana Azmi, an Indian actress and social activist, and Sanath Teran Jayasuriya, a legendary cricketer from Sri Lanka have earlier served as Saarc Goodwill Ambassadors for HIV and AIDS between 2008 and 2010.