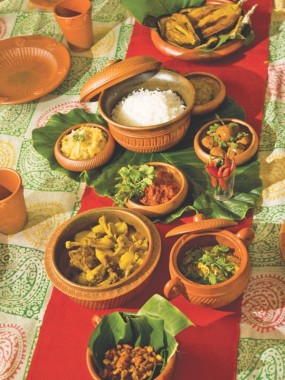 Mejbani beef
For friends Saleh, Tareq and Sahil -- born and raised in the asphalt capital -- this was an opportunity of a lifetime. Mejban always conjured images of food and food only, but their first actual experience of an authentic mejban at the heart of Chittagong was an experience quite different altogether.
The gathering of nearly two thousand people for a feast was something quite mind boggling in itself. Bigger than the grandest weddings in Dhaka, this auspicious occasion marked the remembrance of the recently demised and provided occasion for social interaction. Feasting was part of this bondage, yet not limited to it.
The menu for a mejban is the same ritualistic, beef preparations but even within this limited selection variations are achieved through using special herbs, aromatic spices and secret ingredients.
The quintessential dish is of course beef dipped in a watery gravy. Although different versions of the same recipe are prepared across the country, the taste associated with it varies and in reality when cooked for thousands of people, a special flavour is imbibed into it.
Beef cooked in buter daal is also a staple recipe for such occasions. As is nola, a preparation made from the bones and cartilages of the near dozen cows that are often slaughtered for the occasion. On rare occasions, mashkolai is served on the side, along with plain, shedho chaler bhaat in this all you can eat fiesta!
Human interaction is unique to geographical localities and within small segments within that locality itself. Although people outside Chittagong associate mejban as an eating ritual, the fact remains that this is a form of interaction between people and their extended family and friends. Food remains a medium for bringing people closer together and this is possibly expressed best in occasions like the Chittagonian mejban.
Beef with shatkora
Is it 'shatkora' or 'haatkora'? Possibly the difference is in the dialect but no doubt they both refer to the same ingredient for delicious beef curry!
Cooking beef with shatkora is anything but easy and in north eastern regions of the country, culinary skills are benchmarked with the degree of perfection in the preparation of beef with shatkora. Add a little more than the amount required and you falter. If it turns bitter, well, there is no saving the dish.
Shatkora is a citrus fruit grown primarily in Assam and also in the Sylhet region. As a matter of fact, this dish is synonymous to the rich tradition and culture of that region. Thanks to thousands of "Indian" restaurants that have spread throughout Europe and especially in the United Kingdom, this particular cuisine has now breached the shackles of geographical locality and has gone global.
The fruit does not produce much juice, is about the size of a small grapefruit and is yellow when ripe. Very sour, somewhat bitter, and extremely aromatic, the fruit is seldom consumed raw or as a juice, but is instead sliced and cooked, either green or mature.
Possibly, one does not like shatkora with the first taste. The aroma may first seem spellbinding but the first taste of the bitterness associated with the meat curry probably acts as a deterrent. But once the taste is 'acquired' one just cannot stop loving it.
Any average foodie who fails to appreciate if not love the attributes of shatkora in beef or mutton curry must think twice before claiming to be a food connoisseur. And for fish with shatkora…that is something quite divine in itself.
Bou Bhat (Khud)
Omelettes, most would agree are a heavenly gift to mankind but to the Bangladeshi palate omelettes conjure images of weekend meals complementing 'bou bhat' -- a fried rice with a rustic 'deshi' twist.
Bou bhat is made from broken rice or boiled-rice. Seasoned cooks are aware that made from atap chaal, the rice results in a sticky consistency, much different from the fresh, dry preparation.
As a child, 'bou bhat' was our Friday staple. The ginger-garlic flavour did not satiate the taste buds of a six-year-old, but today it seems divine.
Bou bhat is often served with eggs, but more often it is taken with 'shutk bhorta' (mashed dried fish) and other 'bhortas'
It did not seem appealing at that time but the nostalgic memories that it now conjures makes the now seasonal feasting of bou-bhat an anticipated event.
Kawon Chaaler Payesh
And the band played on. One popular tune after another, the wedding band easily caught the vibe of the crowd, now on their toes dancing in what seems likely to be a long night.
Shaoli remained seated on the woven paati with a myriad dishes before her  sweets, sour preparations and salty kebabs. Nervous and tensed, Shaoli felt the pressure build up to the big day ahead of her and suddenly felt like throwing up. But she managed to control her up-chuck reflex and soon reganed her composure.
One dish that remained untouched was the payesh made by her granny -- her favourite, kawoner payesh! Her ailing granny wasn't fit to attend the holud, but she had sent the payesh as her blessing for young Shaoli.
She grew up tasting the payesh; Eid was never made complete without it. And sitting on the paati, she could only reminisce about pleasing moments that form a large part of her childhood.
Shaoli led a restless life, never settling for a moment. Her mother tried in vain to calm her down, running after her with a plate of rice from her cradle days, well into her university life. Her restless nights spent on the phone were accompanied by mugs of coffee and the ubiquitous payesh, made by her granny  just for her granddaughter.
Shaoli has always liked the granular taste of the preparation, a feature that separates kawoner payesh from the rest. The rice would come from their home village in Mymensingh. And on this day, the memories seemed sweeter than before. This was a new beginning for her; where she too would start a family, have her own children and grandchildren. Maybe she would pass the legacy, the secret recipe of kawoner chaler payesh to her heirs.
Shaoli felt her eyes moisten. She wiped the tears and put on her shaky smile. And the band played on, "Aaj tomar mon kharap meye…"