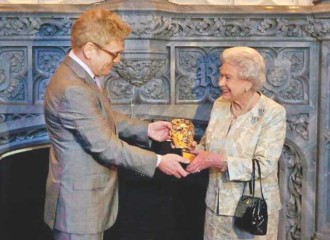 The Queen of England has received a honourary Bafta for her lifelong support of the British film and television industry. Actor Sir Kenneth Branagh presented her with the award in a star-studded gala at Windsor Castle on Thursday.
Bafta chairman John Willis described the monarch as "the most memorable Bond girl yet" - a reference to her cameo in the London Olympics opening ceremony. The Queen, who attended with the Duke of Edinburgh, featured with Daniel Craig as James Bond at London 2012 - when she appeared to parachute from a helicopter.
Hollywood director George Lucas, who flew in especially for the event, said the UK had been influential for him.
Presenting her with the award, Sir Kenneth Branagh said if the Queen should wish to venture further into the film industry there were plenty of people here that evening with scripts offering marvellous parts.
Actress Minnie Driver admitted to being nervous meeting the Queen and had flown over from the US especially.
The 300 guests represented all areas of the industry including actors, directors, writers, producers, costume and set designers, publicists and critics.
TV's "Homeland" star Damian Lewis, who attended the event with his actress wife Helen McCrory, said: "The arts and film industry punch above their weight with little funding."
Source: BBC