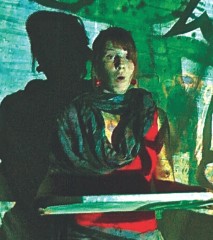 On 25 March, as part of the Franco-Bangladeshi Cross Cultural Project, a group of French puppeteers staged a puppet show on 'Water and Selective Sorting of Household Waste' in Le Galarie of Alliance Française de Dhaka. A collaboration between French school children at Levet and their Bangladeshi counterparts from Maer Achol, a street children shelter in Mirpur, the show told the story of how kids from halfway across the world adventure to find frogs and marry them in order to make it rain.
This ambitious project was based on the creation of real puppet workshops which brought together children from different countries. Children imagine a story and produce puppets to bring it to life. This multicultural project stood out not only in terms of its educational possibilities but also in terms of cultural and artistic challenges that they had to face. Director Marja Nykanen explains, "We started working on the project a year ago, when we planned and went looking for sponsors. Those took quite a long time to process, and the children in France put in their ideas two months ago and after that, we came to Bangladesh to perform." Marja, a skilled puppeteer from Finland adds, "My team and I are very excited to be working with Bangladeshi children, the vibe here is incredible."
Binding two different cultures was a difficult job but the team, with Elise Perrin masterminding the storytelling, did a tremendous job to unite the imagination of the French and Bangladeshi children. Making the show even more compelling was the performance by the 13 children from Maer Achol along with the puppeteers. The team performed in School of Levet in France, Maer Achol in Mirpur and finally at Alliance Française and they hope to make a documentary about their journey throughout. In a world full of Doraemons and fancy gadgets, efforts like this are not just intriguing, but a fun way of going back to the basics.