(Left)Sarkar Nahid Niazi, Wood composition 4,
acrylic on canvas, 2012. (Right) Kazi Syed Ahmed, Reconstuction 5,
acrylic and sack on board, 2012.
Syed Ahmed has used jute and cloth for his experimental work, while his wife Nahid Niazi who has won acclaim with her picturesque and imaginative use of wood panels.
This time Nahid and her husband, who have exhibited alone—now have a combined effort at the Bengal Gallery. The walls of the gallery appear to dance and sing with colours and lines for varied colours and textures. While her husband has excelled in cloth texture Nahid has won the heart of the art buff with her exquisite work on wood.
Even though made of the cheapest of materials, they appear exotic and superb. Their avant-garde approach sets the stage of visual art into something fresh and nouveau. Scintillating reds, brown blacks and other earthy colours cover Bengal halls. The mood is ecstatic and fills one with joy and satisfaction.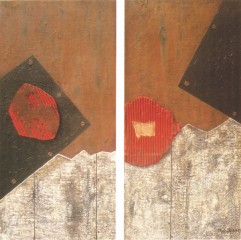 Sarkar Nahid Niazi, Composition 2,
acrylic on canvas, 2012.
Syed Ahmed creates a poppy, with a background of an indigo blue rectangle. The stem balances on a pale mauve and vermilion square. This balances a paler piece of rectangle. The rest of the background is of a paler blue and mauve. It is a romantic creation, no doubt. His sack and board creation with a mauve ribbon on a band of bright red has a flecked gold and indigo background.
His sail boat or windmill, done in burnt sienna and jet-black with a stroke of a ruby highlight has minimum lines and strokes on a beige backdrop. His "Wasteland" in acrylic and board, done in 2012 could be seen as a scattering of red rose within a rose— with gray and white rectangles, squares, lines and imaginative scrawls—which could be taken as Bangla alphabets.
Nahid also has a fresh approach to visual art. She has used planks for ages, and like her husband, has won awards and acclaims abroad. Like Kazi Sayed, she too brings in a breath of fresh air to the art buffs. Her "Composition 2" (oil on canvas) in red squares, circles, and triangles, on a burnt sienna and beige gray backdrop and forefront also charms the onlookers. There is untold beauty and food for thought in her acrylic on canvas board creation "Broken Images - 21."
Kazi Syed Ahmed, Reconstruction 3, acrylic and sack on board, 2012. (Right) Kazi Syed Ahmed, Reconstruction 10, acrylic and sack on board, 2012.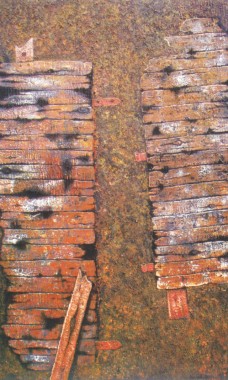 Sarkar Nahid Niazi, Broken Image 21, acrylic on canvas, 2012.
With the same title is another acrylic in lines of white, gray and black. It has a backdrop of a hundred squiggles in burnt sienna. His work reminds one of the bandages used in World War II, and within the layers of paints, there is a hint of loneliness and hints of escapism. The bright red poppy flower gives hints of World War II once more. The dancing colours give the hint of married life of the artist couple.
Nahid's "Nature - 3" and "Nature" are idylls in lines and swirls. They are done on acrylic on board and wood. There is no naiveté in the work of this painter in 2000. Her Lucy Morrison prize in UK matches Kazi Said's US, Korean, Japanese and Swiss recognitions. Her images on thrown away wooden windows evokes the feeling of loneliness as well as hope and dreams.
Full of emotions, delicately done work of the duo give both the joys and suffering of conjugal life. For the two the medium remains a message. The works are much more for pure decoration and beautification. Patches and prints add meanings. Both are free lance artists, whose new dimension to visual art gives it a 3-D effect.