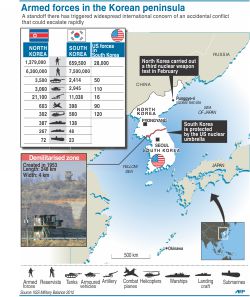 North Korea blocked access to a key joint industrial zone with South Korea yesterday-- a sharp escalation in a military crisis that Washington blamed on Pyongyang's "reckless" behaviour.
North Korea informed Seoul in the morning that it was stopping the daily movement of South Koreans into the Seoul-funded Kaesong complex -- 10 kilometres (six miles) inside the North side of the border.
However, it added that the 861 South Koreans currently in the zone were at liberty to leave.
Any move on Kaesong -- established in 2004 and a crucial source of hard currency for N Korea -- carries enormous significance.
Neither of the Koreas has allowed previous crises to significantly affect the complex, which is the only surviving example of inter-Korean cooperation and seen as a bellwether for stability on the Korean peninsula.
South Korea's defence ministry said it had contingency plans that included "military action" in case the safety of its citizens working there was threatened.
The latest North Korean move fitted into a cycle of escalating tensions that has seen Pyongyang threaten missile and nuclear strikes against the United States and its ally South Korea in response to UN sanctions and joint military drills.
China, the North's sole major ally, appealed for "calm" from all sides yesterday, repeating Beijing's oft-declared position.
Russia's Deputy Foreign Minister Igor Morgulov said he was "worried" by the situation, saying even a simple human error could cause the crisis to spiral out of control.
In a rare show of force in the region, Washington has deployed nuclear-capable US B-52s, B-2 stealth bombers and two US destroyers to South Korean air and sea space.
US Secretary of State John Kerry on Tuesday denounced the "unacceptable rhetoric" emanating from Pyongyang and North Korean leader Kim Jong-Un.
"What Kim Jong Un has been choosing to do is provocative. It is dangerous, reckless and the United States will not accept (North Korea) as a nuclear state," Kerry said.
He was speaking after the North warned it would reopen its mothballed Yongbyon reactor -- its source of weapons-grade plutonium.
Earlier, UN chief Ban Ki-moon warned the situation was veering out of control and stressed that "nuclear threats are not a game". "The current crisis has already gone too far... Things must begin to calm down," Ban said, adding that negotiations were the only viable way forward.