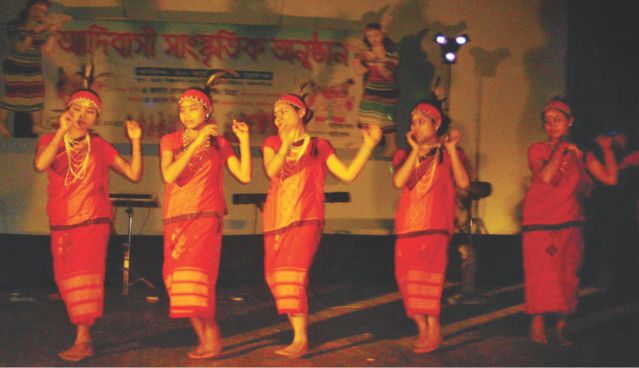 Indigenous artistes perform a dance. Photo: Star
Indigenous artistes from Mymensingh and Sunamganj performed to a huge audience gathered at Shilpakala Academy auditorium here on Wednesday afternoon.
The performances included renditions of traditional songs in the languages of the indigenous communities and Bangla classics, dance and a dance-drama.
Protection and Establishing Rights on Land of Adibasi in Mymensingh (PERLAM), a project of CARITAS, and Manusher Jonno Foundation (MJF) jointly organised the programme.
The event began with a chorus rendered by Holy Family School's artistes. Later, artistes from Jamalpur, Tangail and Netrakona performed at the programme.
Noted indigenous artistes -- Kishore Cladius Napak from Sunamganj; Chandana Hajong and Hasina Slan from Netrakona; and Dwip Aarmi -- rendered songs in their languages and in Bangla.
The artistes were assisted by Rinku on keyboard, Raqib on drums, Mahfuz and Suman on guitars.
Earlier, a discussion was held, with Deputy Commissioner of Mymensingh, Lokman Hossain Miah, as the chief guest. Theofil Nokrek, regional director of CARITAS, and Shashanka Richil, project coordinator of PERLAM-MJF, among others, spoke at the discussion.
The indigenous people must take initiatives to protect their cultures -- the speakers were of the view.