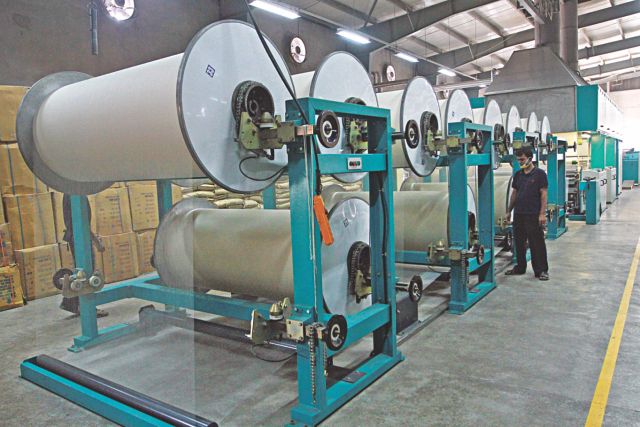 Industrialists call for continuation of the existing 1 percent duty on imported machinery used by export-oriented industries. Photo: Star
The government should reduce duty on import of industrial machinery, and basic and intermediary raw materials to encourage entrepreneurs to set up new industries, according to a set of recommendations compiled by the industries ministry.
The government also needs to continue the existing zero duty policy for imports of essential commodities such as food items and 1 percent duty on imported machinery used by export-oriented industries.
Industrialists demanded cuts in duties on industrial machinery from 3 percent to 1 percent, on basic raw materials from 5 percent to 3 percent, and on intermediary raw materials and raw materials produced domestically from 12 percent to 3 percent.

The industries ministry compiled the recommendations for the upcoming budget of 2013-14, on the basis of the proposals forwarded by entrepreneurs.
Speaking to The Daily Star last week, Industries Minister Dilip Barua said: "Our main policy should be to protect and promote local industrial products."
"So, we should try to give tariff and duty benefits to our import-substitute industries so that they can help us raise industries' contribution to GDP [gross domestic product]."
Barua also said the tariff and duty structures could play an important role in helping local industries flourish.
The industrialists recommended continuation of 12 percent duty on essential products that are not manufactured in the country.
They urged the government to keep the duties on commodities -- imported and domestically produced -- unchanged at 25 percent.
Duty on raw materials used by the plastic industries should be reduced to 3 percent from 5 percent, as the industry has a huge potential to become an import substitute industry and all raw materials used by the sector are imported.
They demanded cuts in duty on imported urea raisin from 25 percent to 5 percent, as it is used to produce electric equipment such as electric switches and socket holders and are also used in melamine and plastic industries.
The government should also think of withdrawing the 5 percent regulatory and 20 percent supplementary duties on SIM (subscriber identity module) and scratch cards, as their withdrawal will help the industry grow further and lower their prices.
They also demanded decrease in duties on raw materials and value added taxes to help local manufacturers make motorbikes, whose demand is increasing in the country.
One of the recommendations is about reducing the 15 percent VAT on many locally-manufactured parts used in buses and trucks. The withdrawal of VAT will encourage their commercial production in the country.
The businesses also demanded an increase in incentives for the footwear industry from 15 percent to 20 percent to help the industry grow further, which would be able to create more jobs.
The cuts in duties have been recommended to encourage entrepreneurs to go for import substitute industries, which will ultimately discourage imports, said Farhad Uddin, an additional secretary to the ministry.
He said the domestic industries are losing market as imports are cheaper. Besides, the National Board of Revenue strictly monitors production of industrial goods while imported items enjoy unfair advantage by evading taxes.
The country's import-dependent trade policy is also responsible, said Farhad Uddin, adding: "We do not have a clear industries-friendly duties and tariff structure."
The recommendations will now be sent to the Tariff Commission, which will forward them to the NBR before they go to parliament for their inclusion in the national budget in June.
fazlur.rahman@thedailystar.net