Shwedagon Pagoda at sunset. Photos: Courtesy
As I sail around the world on Semester at Sea, Myanmar was my next stop. Even though Myanmar is a neighbouring country of Bangladesh, I have never visited Myanmar. Our ship arrived to Rangoon on February 25. We were supposed to be in Myanmar for five days. Unfortunately, it took a whole day to go through immigration and we lost an entire day in the country, waiting on the ship. We were very fortunate to have entered Myanmar, because the government of Myanmar has recently opened its borders and made it easier for foreigners to visit. However, most of the bordering areas of the country are still under the restricted zone and tourists without special permission are not allowed to enter these restricted zones.
The first thing I noticed about Myanmar was the weather which is extremely hot and humid. As the first day was rather unproductive, I made the best out of next few days. I made my way to Scott Market. It is a market for tourists, where a lot of crafts and art works are sold. Scott Market still holds the British colonial name, which really surprised me. It is very easy to get lost in and also lose track of time. I am not sure how many times I went in circle around the market for hours. It was extremely hard to keep track and the heat was unbearable. However, one thing made up for the heat-- food! Being on the ship for more than a month at this point, we all came to appreciate the diversity of different cuisine around the world. I have never had the opportunity to experience Myanmar's cuisine before. And I was surprised to find similarities between Bangladeshi and Myanmar's food. My lunch menu included rice, shrimp curry, chicken curry, chutney and avocado milkshake. To be honest, I enjoyed every bit of my lunch- except the avocado juice!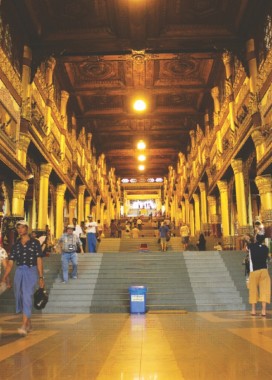 Stairway to Shwedagon Pagoda. Photo: Courtesy
Most of my exploration included just walking around the city of Rangoon. One of the highlights was the Shwedagon Pagoda. This pagoda is 325ft tall, the largest one in Myanmar and dominates the skyline of Rangoon. The pagoda is gilded and according to what I heard, it is covered with 60 tonnes of gold! The pagoda is not the only structure- the entire plaza has many pagodas and prayer halls. One more thing that impressed me to a great extent was the stairway to the pagoda. It was rather challenging to climb all those stairs in this intense heat of Myanmar. But the gorgeous décor of the stairway made every step worth it.
Part of my third day included, taking the Circular Train of Rangoon. This train line goes in circles around the city and also touches the outskirts. To complete the entire circle, it takes three hours. During these three hours, I sat in a local train compartment of Rangoon, I got the chance to witness the daily lives of the hard-working people of Myanmar. They would load vegetables from one market and take it to another market to sell it. There were families, young people, old people, working people, students, hawkers- everything you can imagine in that train; hopping on and hopping off. It was great to just sit there and watch people capturing this unique experience not only in my camera but in my mind as well.
My last day in Myanmar was a field programme, which is organised by Semester at Sea. Through this field programme, I had the chance to visit a small monastery, the monastery school, horse cart ride, local rickshaw ride, village tea-stall experience and last but not the least a local market experience. One thing that I bought in huge amounts was the Burmese pickles. I believe that every child from my generation grew up with the obsession of Burmese pickles. So, it was the perfect time to feed my obsession! And thus, I merrily hopped back on the ship with my bag full of pickles!
Visit to the monastery school near Rangoon.