Matbor Tower! Yeah, that's actually a real place. I scoured two floors searching for 'matbors' but I didn't find any. Maybe they all mastered invisibility from orange jumpsuit wearing ninjas. I couldn't even find out any links the 'tower' might have with actual 'matbors'. Maybe it was erected as a tribute to 'matbors' everywhere, or maybe it was built by the biggest 'matbor' of them all. Either ways, it doesn't matter because Matbor Tower is not really a tower, it's just an apartment. Misleading as hell, right?
Photo: Darshan Chakma
On the 26th, on the first floor of that apartment-like tower (or tower-like apartment), an Anime + Manga Convention took place. MazeCon 2 is the second of its kind; the first took place in 2011. I hope they don't plan to serialize all their future events. MazeCon 54 doesn't sound too catchy.
Here's a proper introduction; Manga can be equated to comics, Anime with cartoons. Both have a  large, dedicated fan-base worldwide, with the age range also varying greatly. It is no different in Bangladesh. In Bangladesh we have teamOtaku, which rapidly grew into what is now called MazeCity, Bangladesh's first anime community-forum-site-thingy. On the 26th they held MazeCon 2, a gathering of all things anime and manga. The event had a lot of cool stuff going on that would appeal to anime fans.
The basic stuff:
You buy a ticket. That ticket lets you enter (obviously), but before you enter you are given a gift pack consisting poster, a t-shirt, a mug and the whole thing is given to you in an awesome paper bag. Seriously love the paper bag. Inside there are stalls which is a good way to spend your time while the organizers are stalling for the next event ... stalling, geddit? There wasn't much stalling though, so all's good. For your ticket you also get lunch, bottled water and 'Mojo'. There was a cosplay contest and karaoke contest. I hear there was also a quiz competition and party with an anime DJ near the end. Sadly, I couldn't stick around for that. But if the rest of the convention was anything to judge by, then I am sure they were great.
Stalls:
There were 5 stalls. One of them sold food, the other sold paan (because anime and paan go so well together, or did you not know that?). The other three followed the theme. 'We Draw Stuff' was one stall. They drew stuff, as promised. Some people brought in their works and kept it with them so that other fans could browse. Others could request drawings of any desired character(s) or portraits of themselves. I sat down with these guys and drew for a while. They are all really talented. I think Jamil's Comics had a stall there selling manga. 'Anifinity' was the next stall. They sold figurines, accessories and t-shirts. They take orders for cosplay costumes, which brings us to our next feature. You can find them all on Facebook.
Cosplay:
There were some rather elaborate costumes. There was a lot of Bleach and Naruto stuff which I didn't know anything about. There was Mystogan (Fairy Tail) who had five staves (I didn't count), all resembling the ones from the series rather accurately. There was an eerie duck-ghost thing (Eliza from Gintama) which made me VERY uncomfortable. I walked past it several times, each time with my guard up. When the duck-ghost got up on stage, it turned out there were two of them! Well played duck-ghost-man, well played.
The cosplayers either made the costumes themselves or, in most cases, got their tailors to make it for them. I was very happy to see some crossplay was well (crossdressing cosplay); there was a girl cosplaying as L (Death Note). Also, Goku was one of the people managing the event.
Karaoke:
The people singing were surprisingly good. They couldn't fool you into thinking that they could speak Japanese, but they could sing those songs damn near perfectly. I didn't recognize most of the songs because I don't watch mainstream anime much, but there was one guy who sang SATSUGAI (Murder) from the short comedy series Detroit Metal City. That I know and that I like.
Of the few special guests attending MazeCon 2, the spotlight would have to fall on Ahsan Habib, cartoonist and editor of famous satire magazine Unmad, and Sharier Khan, the creator of 'Babu' and 'Basic Ali'. Their attendance and patronage assisted greatly in publicizing this event. Also to thank are the heads of MazeCity.
In my viewpoint, what made MazeCon 2 so great was the crowd. They were willing and eager to participate in the events. To be honest my expectations weren't that high, I didn't think anyone there would watch the type of anime I did. But there were a lot of people and they all had unique tastes, some of them sharing mine. Interacting with them, exchanging opinions and sharing anime names made for a fun experience. If you are an anime or manga fan then try and be there for the next one.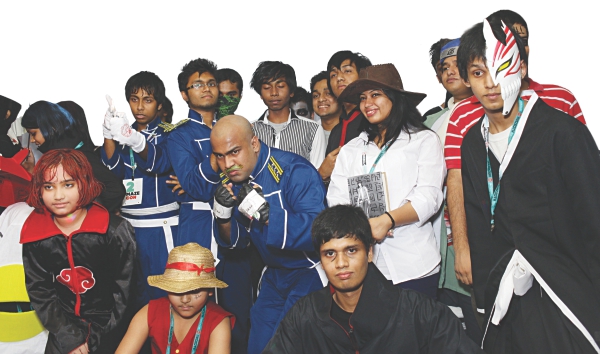 Photo: Darshan Chakma