Photo: Prabir Das
The shocking figures against the white backdrop do not give your eyes a rest. They are spread all over the canvas — one embedded into another or transforming into something else or just severed parts of a body.  From a distance the pictures depict chaos but as you move closer it becomes meaningful — as if it is an unedited reel of a silent film. That is Shishir Bhattacharjee's way of telling
Untitled, acrylic on canvas, 2012.
the story of our society. While sipping tea on the ground floor of the Dhaka Art Centre, the artist, activist and renowned cartoonist explains why he calls his fourth solo exhibition Daag- Tamasha (Farcical Lines).
"I felt strongly about the disorder, unevenness, cruelty and violence of the society. I felt that reality is more than cartoon. Anything can happen in reality; even incidents that are beyond our imagination. When you try to portray that it appears very shocking," he says, admitting that his frustration of not being able to do something positive to counter this decadence is also manifested in his art.
The presence of animals in quite unnatural state is very visible in Bhattacharjee's Daag-Tamasha. "Human being is a composition of both animalistic and rationality. The animal instinct in humans reign supreme where rationality ends," he opines adding that the animal instinct in human being is wilder than animals. He says that at one point people become apathetic to the anomalies of the society and carry on with their usual tasks, as if nothing is wrong. "The society is too loud. All the characteristics of an urban society are present amongst this chaos. All these appear to be a world of fantasy to me. The word 'Tamasha' is derived from that fantasy," he explains.
Bhattacharjee who has established political cartoon as a necessary item on the front pages of Bangladeshi newspaper says, "Fantasy, humour and satire always prevailed in my work. But when I cannot do anything other than being a spectator of this 'Tamasha', it deliberately comes out in my work." He refers to another of his series — 'khela dekhe jaan babu' (Come and see the game) done in the 90s.
The activist in Bhattacharjee is a result of the social consciousness that has developed in his childhood through books and the cultural environment of his home town at Thakurgaon. During his student years in the Institute of Fine Arts more commonly known as Charukala, Bhattacharjee with a couple of like minded friends started the 'Shomoy' movement in the `80s. "We wanted to do something new in art," he says. They were not satisfied with the way Bangladesh's culture and tradition as an independent nation was being portrayed through arts. They felt that the visual world did not properly present the socio-political reality of Bangladesh. Thus they advocated for conscious art work through their exhibition.
Bhattacharjee says that most artists avoided depicting the suppression of the autocratic regime of the '80s, with an excuse that art is something else; a decoration piece for the drawing room. The 'Shomoy' activists took a different stance from this school and started bringing in the socio-political reality of the society consciously. "We had Zainul Abedin, SM Sultan and Quamrul Hasan as our guide," he reflects.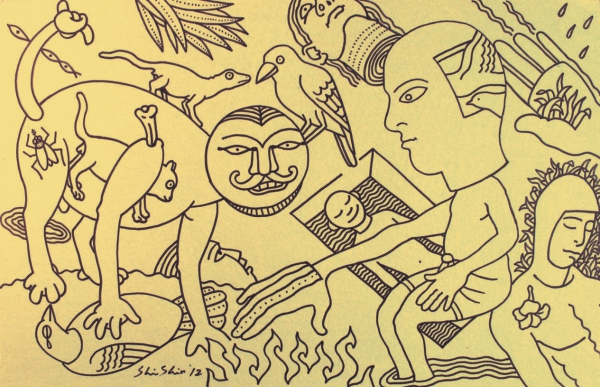 Untitled, acrylic on canvas, 2012.
In fact, Bhattacharjee's cartoon was a tool of activism during the movement against the autocratic regime of General Ershad. "That too was an expression of my social responsibility as an artist. If I do not have a favourable environment, what is the use of being an artist?" he asks. Starting with the weekly 'Deshbandhu', Bhattacharjee's cartoon began to appear in other weeklies. His political cartoons drew wide attention when he joined the daily 'Ajker Kagoj'. A series of caricature of notorious collaborators was published then in the newspaper under the title 'Tui Razakar' (You are a collaborator). A similar series was published again in 'Bhorer Kagoj' when he joined the daily.
Bhattacharjee who currently works at the daily Prothom Alo, says, "There weren't many political cartoons in newspapers before and it wasn't something regular. But once it became an integral part of the newspaper, its demand rose and newspapers became more popular. I had an obligation of continuing it." Bhattacharjee is not satisfied with the extent of press freedom that should ideally be present in a democratic society such as ours. "Besides, there is self censorship and there are some sensitive issues in which you cannot exercise your freedom fully."
However, comparing the scenario with the 90s he says, "You can draw more political cartoons now. Beforehand, the politicians whose cartoons I drew would get angry. They used to threaten the editor or the reporter. Even I used to get threats. Now a culture of political cartoon has developed." As an example of how tolerant our politicians have become towards this, he says, referring to a finance minister, "He asked, 'Why hasn't Shishir drawn any cartoons about me recently?'"
Mentioning the recent cartoon debacle of Paschimbanga, India, he opines that tolerance towards criticism is almost the same level in all the South Asian countries. From his experience Bhattacharjee notes that it becomes difficult to draw cartoons criticising the government when it is at a vulnerable stage, especially towards the end of its term. "You can draw as many cartoons as you want towards the beginning or mid term of a democratic government," he adds.
Currently, a faculty member at the Institute of Fine Arts, Bhattacharjee points out the need for teaching animation as a part of applied art in art schools and colleges. "Since animation is done in cartoon format that can help in developing a cartoonist." Regarding the demand and status of cartoonists in our country, he says, "In many countries cartoonists are respected more than artists, because they give comments (on social and political issues) on a regular basis." He opines that a cartoon can even substitute a couple of editorials. "Cartoonists are highly paid and respected abroad but here they are treated as minor."
As an artist, Bhattacharjee believes that his cartoonist nature does not directly affect his art work. However, he admits that the fantasy and humour found in his art work could be an influence of his identity as a cartoonist. "Cartoon is a graphic work which has some limitation. It is for mass people. It needs to communicate with everyone. So I have to create the pictorial language after much synthesis. The process of synthesis is a system of pictorial language," he explains adding that this system is useful for his art work too because it helps him realise what he needs to do to communicate the message he wants to portray through his art.
Referring to his series 'Could have been the story of a hero', 'Come and see the game' and 'The picture' he says, "All of these were done from an opposite pole to that of the usual realisation of fine art practised here. Whether you call it avant-garde or not these were done from a sort of dissatisfaction." This dissatisfaction is evident in most of the pictures in Bhattacharjee's Daag-Tamasha. The tear-streaked dead pigeon or the joyous figures in front of a closed circuit television camera provoke your thoughts. It reminds you that art should not be an escape from reality, rather a media for protest.
Starting on March 14, Daag-Tamasha will continue till March 24 at the Dhaka Art Centre gallery everyday from 3pm to 8pm.