Photo: Kazi Tahsin Agaz Apurbo
One Degree Initiative has become a name heard and spoken of a lot amongst the youth. By now, they have established themselves as a successful non-profit youth organisation working tirelessly to bring about a change in the face of this country. One Degree Initiative was founded in 2006 by a group of friends determined to make a difference in the community they live in. Today, 1di has over 3000 members and operates in 5 countries around the world, namely Nepal, Afghanistan, Canada, Australia and Bangladesh. What makes One Degree Initiative stand out is that it is all about the youth. It is strictly for the youth, by the youth.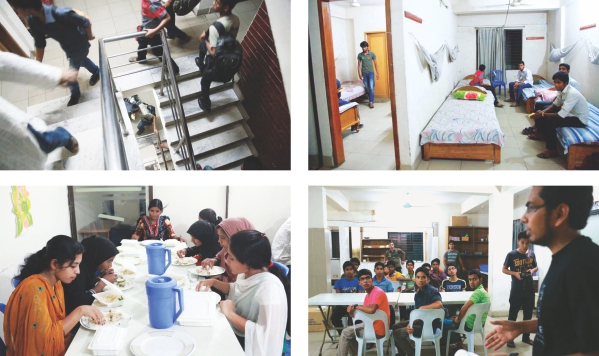 All the participants went through a process of getting accustomed before starting the workshop- after arrival, they got accomodated into their rooms, they ate and then were briefed by the project coordinators. Photos: Kazi Tahsin Agaz Apurbo
This year, One Degree Initiative has planned the biggest project they have ever gotten and plans on making this the biggest project to have taken place in the country in 2013. One Degree Challenge is a project of One Degree Initiative which will affect the lives of many people across the country. The project is being funded by the US Department of State and is supervised by the American Centre in Bangladesh on behalf of the US State Department. The main idea of this project is to spread the practice of community service all over Bangladesh.
Participants brainstorm for questions they would want to ask during the sessions. Photo: Kazi Tahsin Agaz Apurbo
Around 50 schools from all over Bangladesh are trained and educated about community services. Two students (ranged from class 8 to 12) accompanied by a teacher from each schools were brought to Dhaka for a 3 day long training session and workshop. The workshops took place from April 18-20, 2013. They were taught the meaning, importance and consequences of a community service. They were asked to identify a problem that has been occurring for a while in their own community and were taught how to tackle the existing problems in their towns and villages, start a community service club and carry out a community service based project in their society. After one month, they will be brought back to Dhaka and will be asked to give a presentation on the project they have completed in the presence of the whole One Degree Challenge team, and the representatives of the American Centre.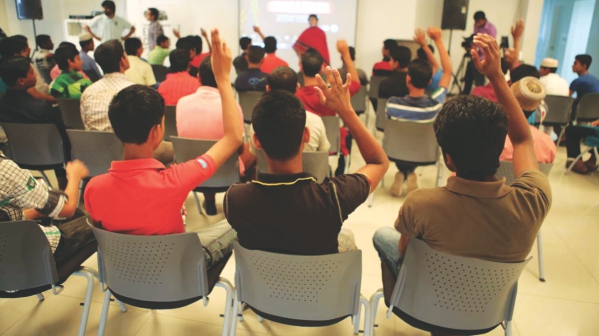 Participants taking active part in the workshops. Photo credit: Orchid Chakma
"There is so much to this particular project," says Sabhanaz Rashid Diya, Project Supervisor of One Degree Challenge, One Degree Initiative and a graduate of Media and Communication at Independent University, Bangladesh. "What I expect out of this project is to reach the silent majority of the country. I want boundaries to be broken and a social interaction between all classes of people. I already see so much of the youth have the courage to stand up for themselves. I want this project to give more of this courage to those who want to bring about a change but cannot seem to find the right path." She adds, "I am hoping for this challenge to bring about societal change and a change in attitude and bring about tolerance amongst the youth, to make it possible for them to interact with and understand each other." One Degree Initiative has been working on this project for almost a year now. Diya shares her experience by saying, "Working on this has been absolutely hectic. But it is all worth it because it has been a new experience and it has taught me a lot. I just want to see more and more active citizens emerging after this project has been carried out successfully. We already seem to be on the right path."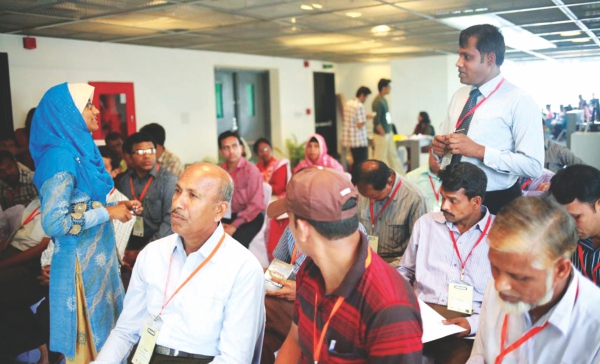 Waiting at the EMK Center to begin the workshop. Photo: Kazi Tahsin Agaz Apurbo
Every one involved with this project has been working tirelessly; especially for the past couple of days- the heads of all the departments, including the Project Manager, One Degree Challenge, One Degree Initiative, Mushfique Rahman, a student of American International University, Bangladesh studying BBA, have all been on their toes.
Executives of the center speaking to the participants. Photo: Kazi Tahsin Agaz Apurbo
"We have had 15000 applicants out of which only a 100 were selected. I could not imagine having so  many people being interested in this project and am absolutely overwhelmed by the outcome. This is supposed to be a year-long programme but in reality, this will never have an end. We are hoping that everyone attending this workshop keeps in their hearts what they have learned and use it for their own good." Mushfique adds, "It is not easy to gel with everyone because we all have different mentalities, but the kind of effort I see in both the participants and the volunteers put in is pleasantly infectious. Apart from their efforts, just seeing the enthusiasm in everybody who is a part of this project makes me feel like Bangladesh is awaiting a better future."
Volunteers from the department of media and communication getting ready to take video interviews. Photo: Kazi Tahsin Agaz Apurbo
The volunteers who are a part of this project are all a part of this unique organisation. They have been thoroughly trained and have all been designated in departments that appeal to their strength. There are 6 departments- logistics, media and communication, finance, creative, documentation and partnership. Ashwaria Rahman, a dedicated volunteer working for both departments of logistics and media, and a student of Siddiqui's International School, says, "Community service has been a part of me for a very long time. Every member of my family has been a part of community service and I have grown up wanting to help and make a difference. One Degree Initiative has given me the opportunity to nurture that desire. It has been a wonderful experience so far in this project and we are all already looking forward to a lot of changes that will take place soon after this is over like reduction in pollution and eve-teasing. I am proud to be a part of this project, and I can speak for the other volunteers too seeing that their level of enthusiasm matches mine."
Volunteers from the department of logistics getting their work done. Photo: Kazi Tahsin Agaz Apurbo
The workshop facilitators have also been a part somehow or the other of One Degree Initiative for quite a long time. But they had obviously had to pick and choose from everyone basing on educational background, their ability to be spontaneous, their ability to be able to connect to people from all walks of life, including other factors. "I want to thank the youth of this country for taking such a wonderful initiative and have me as a part of this," says Md Sakibur Rahman Faisal, a doctor and a facilitator of the workshop. "What surprises me the most is that when I was younger, being a Bengali Medium student, we always thought that kids from English Medium schools are snobs and only think about themselves. But seeing that most of the students who are working in this organisation have an English Medium background, I'm extremely surprised," Faisal adds. He further elaborates, "This three day workshop is just the start. It is like an introduction. One Degree Initiative needs to and hopefully will have follow ups and continue training these young, hopeful individuals to emerge as leaders. It will be a slow and lengthy process, but it will be for the greater good."
One of the sessions taking place. Photo: Kazi Tahsin Agaz Apurbo
Students and teachers from 50 schools, from six districts, took part. Growing up out of the city, they have also been a part of everything that we face in Dhaka- pollution, eve-teasing, corruption and many other social dilemmas. Hoping to bring about a good change, Annapurna Debnath Jui, a student of Srimangal Girl's School, Maulvibazaar, Sylhet, says, "Even on the first day of the workshop, I learned a lot. They taught us how to speak, socialise and connect with people in the simplest ways, identify problems, find solutions and take action. Already having learned so much, I can only imagine what the rest of this journey is going to be like and I can't wait to go back to my hometown and shed the knowledge and make a difference. I want to make sure that pollution, corruption and the other social issues are eradicated with the dedication and effort that we all put in." Similarly, Md Shajjadur Rahman, student of Kali Hadis Islamia Dakhil Madrasa, says, "I want to go back to Tangail, my hometown, and share all of this with my friends, family and school. Apart from the bigger problems, even smaller issues like cheating and biased-ness should also be addressed and I want to fix these little problems first before moving onto bigger issues. I think if people work as a team, it is possible for us to conquer anything. I'm looking forward to becoming a change-maker along with everyone else present here."
One Degree Initiative, once again, has brought about a certain kind of hope and belief in the hearts of many. And like before, it has already brought success seeing how cooperative and passionate every single person involved- volunteers, participants and coordinators alike- in this project are. Margret Mead once said, "Never doubt that a small group of thoughtful, committed, citizens can change the world. Indeed, it is the only thing that ever has." One Degree Initiative is well on their way to becoming that group of citizens. Let's become a part. Let's be active citizens. Let's make the change, let's be the change.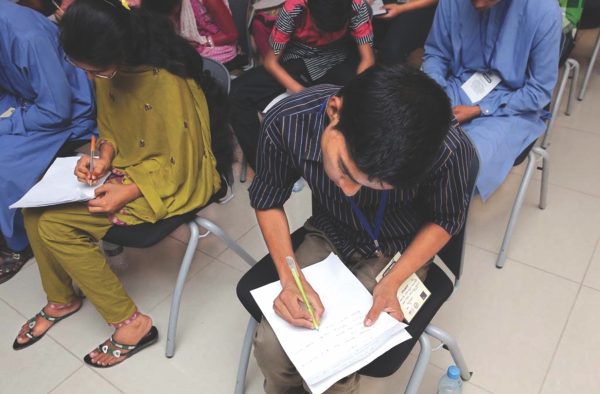 Taking down notes on how to change the world! Photo credit: Orchid Chakma