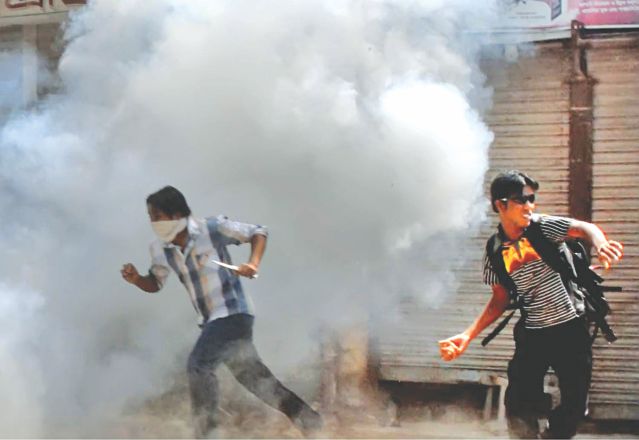 Armed Shibir cadres in action during a clash at Bata intersection in Rajshahi city yesterday. Photo: Star
Jamaat-Shibir activists in a hit-and-run attack hurled several bombs at police, severing the right wrist of one and severely injuring another when the law enforcers were trying to fend off the attackers in the city.
Sub-inspector Mokbul Hossain of Motihar police, who lost his right wrist, in the attack was airlifted to Dhaka at the directive of the prime minister. SI Mokbul was initially rushed to Rajshahi Medical College Hospital (RMCH) and given primary treatment.
He was under watch at the Intensive Care Unit of the Combined Military Hospital where he was admitted at 2:30pm.
Rajshahi Metropolitan Police (RMP) Commissioner SM Moniruzzaman said five other policemen were injured in the powerful blasts during a clash at Bata intersection in Rajshahi city.
Doctors at RMCH said the bomb had gone off in Mokbul's hand as he tried to defend himself from being hit by it.
A policeman lying on the street after losing his right wrist in a blast carried out by Jamaat-Shibir activists. Photo: Star
"His right wrist was severed and three fingers of his left hand were hanging by the skin," said BK Dam, a senior orthopaedic surgeon at RMCH.
Mokbul's father Havildar Ansar Ali, who also works with Rajshahi police, came to Dhaka with his son on the same chopper. Ansar Ali said his son had joined Motihar police only a month ago.
Mohsin Alam, publicity secretary of Shibir's Rajshahi University unit, alleged the policeman was injured when a sound grenade he was about to throw at Jamaat-Shibir activists exploded in his hand.
Alam claimed more than 40 of their men were injured and they received treatment at different private clinics and hospitals.
Inspector Alamgir Hossain of Detective Branch however said sound grenades "have ability to burn, not to fracture" and are used to create sounds to drive away mob.
The other severely injured law enforcer, constable Rofikul Islam of Riot Control Division, was admitted to RMCH as his left elbow was fractured. Other wounded policemen were given first aid at the same hospital.
The clash began around 10:30am when more than 100 Jamaat-Shibir men brought out a brisk procession at Bata intersection demanding an end to war crimes trial and release of their arrested leaders and activists.
Sensing the presence of police, the Jamaat-Shibir men from the procession suddenly started hurling bombs at them.
During the clash that lasted 10 minutes the activists blasted 15 to 20 bombs, said Ziaur Rahman, officer-in-charge of Boalia police.
He added the police fired rubber bullets, teargas shells and exploded sound grenades to disperse the violent procession.
The clash spread to Ranibazar as the police chased the Jamaat-Shibir activists. Roadside shops were closed and pedestrians ran for safety as panic gripped the area.
Police picked up seven men from the scene, said the OC.
Additional police force was deployed at different points in the city as tension mounted following the incident.
Inspector General of Police Hassan Mahmood Khandker told The Daily Star they would take appropriate legal actions against the offenders.
He said the police had been taking risks in discharging their duties properly in the interest of the people.
Referring to yesterday's incident, the police chief said, "He [the SI] has showed the highest respect to his profession."
Meanwhile, Prime Minister Sheikh Hasina said the wounded policeman had been airlifted to Dhaka and admitted to the CMH upon her directive.
The premier said this at a meeting of the Awami League Central Working Committee at Gono Bhaban.