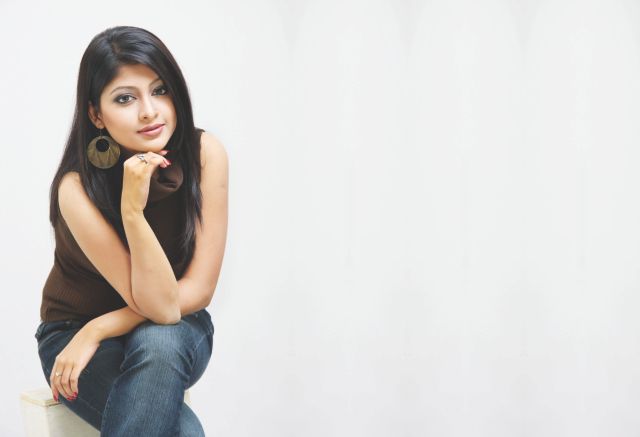 Sarika first made her mark in the media with some successful TV commercials. This proved a stepping-stone into the realm of acting. The popular star has recently been busy with TV plays; but made time to talk to The Daily Star.
What plays are you currently working on?
Sarika: I'm mostly doing one-episode plays. I recently acted in a short drama by BU Shubho, shot at Tangail's Mohera Zamindar Bari. Film star Amin Khan is cast opposite me in the play. I also did a short play by Afzal Hossain Munna. I have several other works currently on my schedule.
Tell us more about the project with Amin Khan.
Sarika: In the drama, I play the role of a courtesan. The story required an old zamindar house, and that is why the Mohera location was chosen. There is a Rani Mahal behind the zamindar's house, where we shot our scenes. My character is that of a ghost.
Any new experiences in the course of your recent work?
Sarika: Shooting always adds new experiences for me. I recently worked on a drama called "Golpota Ek Raater Othoba Onagoto Onek Raater". Although I do my shootings mostly during the daytime, for this drama we shot for three nights straight in the capital. I slept during the day, and shot scenes during the night. It was a unique experience for me.
A recent drama, aired on Maasranga TV, received positive feedback…
Sarika: The drama was called "Jiboner Choturtho Oddhay", where I was cast opposite Abul Hayat. In the drama, I had an affair with Abul Hayat and got married to him. Based on an unusual theme, I quite enjoyed working in the play.
Rumours suggest that you will start working in films...
Sarika: Nothing has been finalised yet. I'm looking for a good project. Hopefully, I will be able to start shooting this year. Maybe I'll work in several films.
What else has have you been up to?
Sarika: I'm joining a flying club, hopefully by the end of the year. The process is underway.