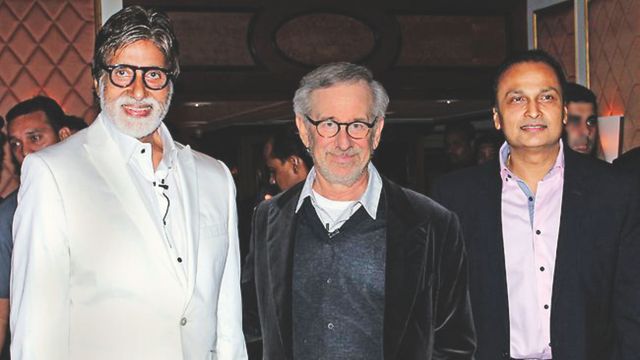 Steven Spielberg (C) poses with Indian actor Amitabh Bachchan (L)
and chairman of Reliance Big Entertainment, Anil Ambani. Photo Courtesy: AFP
It's been 30 years since Hollywood director Steven Spielberg was last in India and the inveterate people-watcher says, "there's a lot more traffic today but people are essentially the same, going about their business."
Three decades ago, Spielberg could "go unnoticed" in this country but not anymore, and certainly not now, after the Oscar-winning success of his latest film, "Lincoln".
Although he doesn't have a subject for a film on India, Spielberg said he would like to remake a Hollywood movie in India. "An experiment I'd like to conduct someday is to take a movie we make in America, and remake it in India. We take an Indian director and a screenwriter, and adapt it with an entire Indian cast," Spielberg told The Indian Express Editor-in-Chief Shekhar Gupta on NDTV's "Walk the Talk" programme.
"I don't design a film around a megastar, the script is the most important thing for me. It's more important to put forth the story than who stars in it. I had a great story about Abraham Lincoln that may have never been made without the performance of Daniel Day Lewis. But a really great story should be good enough," Spielberg said.
Anil Ambani's Reliance Entertainment has a 50 percent stake in Spielberg's Dreamworks SKG.
While Dreamworks is co-producing a film on the founding of WikiLeaks, Spielberg said he was interested in telling the story of Martin Luther King and also the future of computers.
Source: Internet