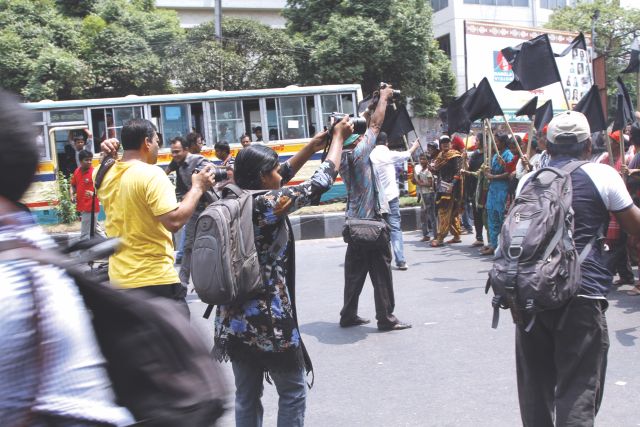 With the boom in the number of television channels and newspapers, journalism has become an attractive career choice for both men and women. For women however, there are extra challenges in the profession that are exclusive to their gender. Despite the goal of trying to represent a democratic, progressive, society, both print and electronic media have not been able to remove the stigma of parochial attitudes that the overall culture suffers from. 
It happened in broad daylight. All that is decent in human spirit seemed to have disappeared into thin air. Though the incident took only a few minutes, its ripple effects would be felt across the country long after. A posse of angry men reported to be belonging to Hefajat-e-Islam (HEI) attacked and assaulted Nadia Sharmin, a reporter of Ekushey Television as she went to cover their huge gathering in Dhaka on April 6. Someone shouted, "What are you doing in a gathering of men?" She told them she was there to do her job as a journalist. That did not go well with them. "I was attacked because I am a woman. About 15 to20 men started it and then there were 50 to 60 of them beating and kicking me while I lay helpless on the ground", recalls Sharmin. She received treatment for injuries to her knee, neck and head. "They would have killed me if some crew members of Diganta TV did not come to my rescue," she adds. While the Home Minister was assuring the nation on national television that the gathering had been peaceful, the nation saw, on the corner of their TV screen, footage of Sharmin running and trying to escape from those frenzied men, outraged that a woman had ventured into male territory. The leadership of HEI later offered an apology for the behaviour of a few of their men. The government, if at all, seems to deal with such mindless acts of violence on an ad hoc basis avoiding the core issues underneath.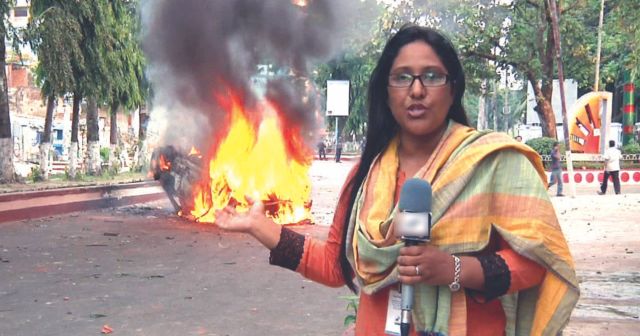 Journalists like Latefa Ansery Runa carry on doing their job despite the recent escalation of violence.
No one has been arrested to date. Despite repeated attempts, latest information in this regard could not be collected from the Ministry of Home Affairs. As of April 17, Motijheel police station remained clueless about it.
Arafat Ara, a reporter for the Financial Expresss, on her way to work, was stopped by HEI men and asked to cover her head. Activists of Jaamat-Shibir threw stones at Mashrekha Mona, a researcher with Shomoy TV. She suffered injuries to her eye. HEI men harangued Zakia Ahmed, a staff reporter for Banglanews24.com for not wearing a head scarf.

Nasimun Ara Huq (L) and Parveen Sultana Jhuma (R) Photo: Prabir Das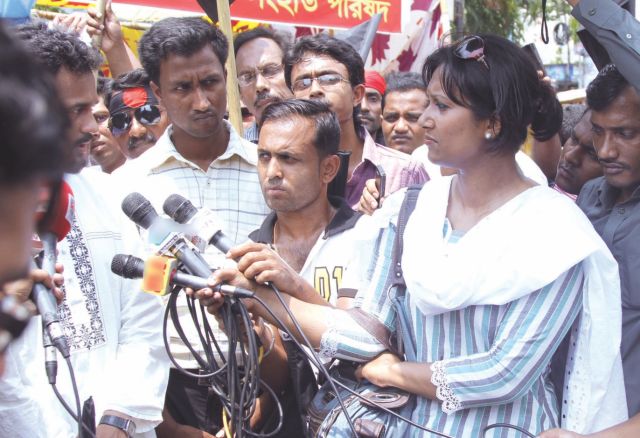 Lack of security is something they face on a daily basis. Photo: Prabir Das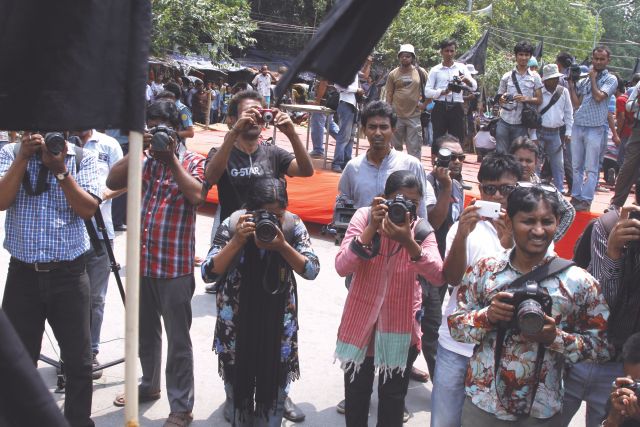 Women journalists work just as hard as their male colleagues. Photo: Prabir Das
Munni Saha
It is not only the bigots of society that display intolerance to women journalists. Sometimes they receive unfriendly treatment from student wings of major political parties. Pinky Chowdhury, a reporter for Dainik Shuprobhat Bangladesh, Chittagong, says, "Members of Chatra League and Chatra Dal often talk to us in a disrespectful way when we cover their news."
How could such an act of violence take place in the middle of the day in the business hub of the capital city? Kaberi Gayen, associate professor, Department of Journalism and Communication at Dhaka University explains, "In terms of Communications, we call it de-sensitisation. When we see the same things happening time and again, our senses do not work anymore. We accept it as our fate accompli. It seems that we have lost the conviction to resist such forces or the commonsense to try to rescue someone in danger."
A physical attack is not the only menace women journalists have to face. They suffer discrimination in recruitment, promotion, benefits, allocation of assignments and sexual harassment, the elephant in the room.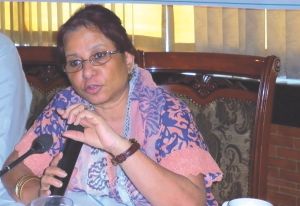 Tahmina Rahman
"The recruitment process needs to be more transparent and merit based, not gender based", says Nasimun Ara Huq, a senior journalist who worked as senior assistant editor of the daily Sangbad and is now president of Bangkladesh Nari Shangbadik Kendra," For example, in some media houses, if there are three women and ten men in the news room, management says, "we have enough women already. We do not want any more." Thus participation of women in media is not increasing. Only 6% of journalists in all media are women. We have written to the employers of various media demanding that they employ at least 25 percent women at all levels based on their skills. It may sound like a quota, but we can look at it as an affirmative action which is necessary to advance the causes of women."
The percentage of women in the news room is significantly lower than that of men. A H M Moazzem Hossain, Editor of the Financial Express says, "The remuneration package offered to journalists is significantly lower than that in other professions. Many highly skilled, English-medium educated women would join journalism if attractive salaries and benefits were offered to them."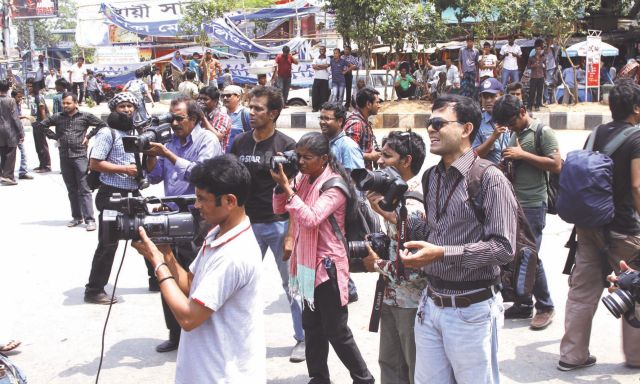 We need laws and codes of conduct to ensure gender equality in journalism. Photo: Prabir Das
Women need freedom and security and equal opportunities to realise their full potential as journalists. But conditions are far from ideal. Parveen Sultana Jhuma, Assistant editor, Shokaler Khobor and General Secretary, Bangladesh Nari Shangbadik Kendra says, "I know about an executive editor who does not want to hire women because they may need maternity leave for six months. In some media houses, women are laid off when they reach a certain age. An editor, well known for his progressive mindset said after interviewing a woman, "Why do they send these older women to us? We want young women." Another editor used to harass women sexually but stopped when confronted by the victims. A female journalist of a TV channel was invited by her boss to his residence while his wife was away. When she did not agree, she was harassed and forced to leave her job. There are very few women in decision making positions in the media. When there is a downsizing, women journalists are the first ones to be laid off. Women are encouraged to report on child development and other "soft" issues. The High Court issued a writ directing each and every organisation to form a cell to hear complaints of sexual harassment. I do not know any media houses that complied."
Nadia Sharmin – Harvester of Hope . Photo: Star file
Lack of family support is another problem. Latefa Ansery Runa, staff reporter, of Machranga TV, Chittagong Bureau says, "I had full support of my parents when I started as a journalist. After I got married, members of my husband's family supported me initially. But as I started doing well as a journalist, they became jealous and stopped cooperating with me."
Journalists who are women are called "female journalists" in Bangladesh. "We do not say women architects, women bankers. Then why do we use the term 'female journalists'?" asks Munni Saha, Head of News, ATN News.
Some complain that many media houses have a misogynistic attitude towards women. A journalist who wants to remain anonymous, shares her experience, "I work as a reporter in a private TV channel. When I go out at night for reporting, sometimes people make inappropriate comments. I was felt up at the Gono-jagoron Mancha when I went there to report on their activities. Some of the male journalists treat their female colleagues as sex objects. My superiors discourage me from doing reports on hartals. I feel like I am not taken seriously by them because I am a woman."
Sexual harassment against women is rarely talked about within journalistic circles or in the news media. There's a code of silence about it that is in everybody's interest to break.
"A woman journalist in Channel One once complained to me that whenever the chief reporter assigned her a job, he wanted her to stand close to him. She cried when she said it to me. However, generally speaking, women are usually treated more fairly in the electronic media." Munni Saha says.
In a study carried out last year, ARTICLE 19 which monitors the state of freedom of expression in Bangladesh, documented 55 cases of complaints by women journalists in the course of their work. Sixty percent of them complained that they faced some form of discrimination regarding recruitment, benefits and their age. And about 53 percent of women complained of harassment, including sexual harassment. "However in most cases women have not taken any steps against perpetrators out of fear of stigmatisation or of losing their jobs. When they have complained they have seen little positive outcome rather they had to continue to work in that abusive environment or were forced to leave", says Tahmina Rahman, Director, Bangladesh and South Asia of ARTICLE 19.
When Lara Logan, chief foreign affairs correspondent of CBS news was attacked and assaulted by a mob in Cairo for an extended period of time on Feb 11, 2011, CBS News revised their handbook to better address these kinds of attacks on journalists. A H M Moazzem Hossain thinks that security is a social issue. "Women should be able to enjoy equal rights as others do."
It goes without saying that media houses are obligated to come up with codes of conduct and professional evaluation systems that will be gender neutral and focus solely on the merits of the individual. Although most media houses are not particularly interested in gender-sensitivity training, it is something that should be incorporated. Journalism courses taught at universities need to be updated and upgraded to address these issues. "We have been advocating the introduction of gender sensitivity courses in the curriculum for some time now," says Kaberi Gayen.
Research is also necessary to improve the knowledge base of journalism on these issues.
"When I covered the BDR massacre, a team of Australian journalists came to Bangladesh. They were shocked to find out that I had not received any training on how to cope with security related issues in dangerous situations. I did everything using my common sense. Developed countries offer this kind of training to journalists", says Munni Saha.
A H M Moazzem Hossain is of the opinion that training on gender sensitivity will not be effective unless social conditions and our attitude towards women change.
Some journalists attend foreign training to acquire new knowledge and skills. In-country training facilities may be developed in order to upgrade their skills and knowledge.
Asked about the implications of attacks on women journalists, Munni Saha sounds optimistic. "In the year 1994-95, I went to cover an event attended by the then Prime Minister. I was almost thrown out by the security personnel because it did not occur to them that I was there as a journalist. Times are changing. Women are not afraid of those who do not accept them as journalists."
The life of a woman journalist in other cities may be more challenging than in Dhaka. Pinky Chowdhury a reporter for Dainik Shuprobhat Bangladesh, Chittagong, says, "A lot of people make rude comments because I wear jeans and fotua. When I went to cover a fire that broke out in the Bastuhara Colony, some people were angry to look at a woman with a TV crew. I became a journalist against the will of my family. Neighbours used to speak ill of me."
While attitudes of the society towards female journalists may take a long time to change, we may start with establishing a legal framework for ensuring gender equality in journalism.
"We need a comprehensive mass media law that will help eliminate discrimination of all forms against women in media. It will also make sure that women are not represented in a disrespectful way by the media", says Kaberi Gayen.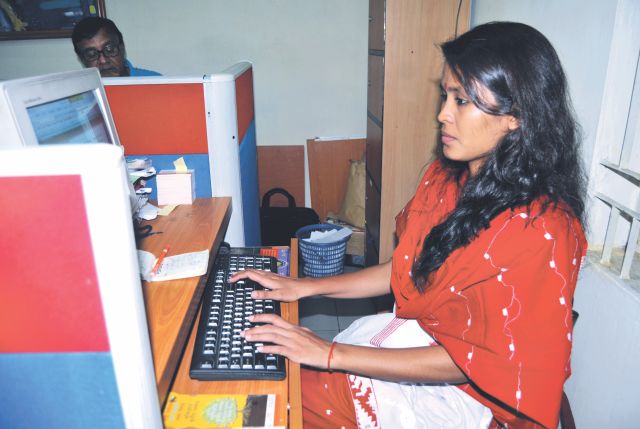 Pinky Chowdhury
All said and done, how does one make sense of such an attack on a woman journalist in a country, the constitution of which guarantees equal rights for men and women? "Our society is going through a transitional period", says Imdadul Huq, eminent scholar and Chairman, Department of Sociology at Dhaka University, "Our moral values have suffered a sudden collapse. We do not have any role models to look up to. We have lost the ability to judge whether assaulting a woman while she is performing her professional duty is right or wrong. The transformation of our economy from agriculture to capitalism has not been complete. We are trying to walk on both sides of the street at the same time. Traditional values are becoming extinct while new values have not emerged. Although religious fundamentalism is on the rise in many parts of the world, I believe that freethinking will ultimately prevail. If we do not like what someone else is writing or talking about, we can write or talk back. Why do we have to choose violence?"
Sohan Khan, student of MA in Political Science, Dhaka University, opines, "Those who want to suppress women do not want our country to move forward. Women are contributing significantly toward the development of our country. We won in 1971. We shall win again. But we have to stay united and raise consciousness among the rural population."
When Kaberi Gayen went to see Nadia Sharmin, her student at the hospital, she said, "I intend to cover their future programmes. I hope they will respect me as a journalist and let me do my job with dignity."
The question isn't who is going to let her; it's who is going to try and stop her.