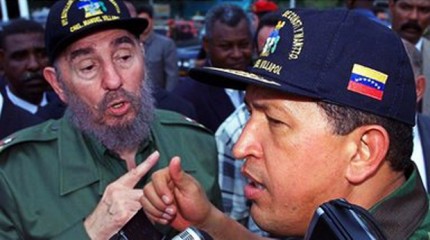 Hugo Chavez is seen with Cuban president Fidel Castro in this undated photo. Photo: BBC Online
Hugo Chavez, the president of Venezuela since 1999, has died at the age of 58.
News of his death became public in an announcement by Vice-President Nicolas Maduro, who said the leader had died "after battling a tough illness for nearly two years".
Chavez had not been seen in public since travelling to Cuba in December for treatment for cancer.
Reactions to his death have poured in from around the globe.
Cuba
In an official statement read out on state television, the government said Chavez had "stood by Fidel [Castro] like a true son".
Cuba will observe three days of national mourning.
Argentina
President Cristina Fernandez de Kirchner has suspended all activities after the announcement of Hugo Chavez's death. Both the Argentine president and her late husband, Nestor Kirchner, were close friends of the Venezuelan leader.
Fernandez's vice-president, Amado Boudou, tweeted: "Great pain all over America. One of the best has left us."
The BBC's Vladimir Hernandez in Buenos Aires says some Argentines have begun gathering at the Venezuelan embassy. Three days of mourning have been declared in the country.
Brazil
Brazilian President Dilma Rousseff has cancelled her trip to Argentina, scheduled for this week, to attend Chavez's wake.
"This death should fill all Latin and Central Americans with sadness," she said. "Hugo Chavez was without doubt a leader committed to his country and to the development of the people of Latin America."
She added that on many occasions "the Brazilian government did not agree totally with Chavez" but always recognised him "as a great leader" and regarded him as "a friend of Brazil and the Brazilian people".
In the Brazilian Congress, a moment of silence was held in honour of Chavez.
Former Brazilian President Luiz Inacio Lula da Silva said he was "proud to have known and worked with him for the integration of Latin America and for a more just world".
UN Secretary General Ban Ki-moon
United Nations Secretary General Ban Ki-moon offered his "deepest condolences to the families and people and the government of Venezuela" and noted Chavez's contributions to his country's development. He will be issuing a formal statement later.
United States
The White House issued a statement saying: "At this challenging time of President Hugo Chavez's passing, the United States reaffirms its support for the Venezuelan people and its interest in developing a constructive relationship with the Venezuelan government.
"As Venezuela begins a new chapter in its history, the United States remains committed to policies that promote democratic principles, the rule of law, and respect for human rights."
Some Venezuelans living in Florida were reacting with cautious optimism that there would be change in their homeland, Associated Press reported.
Republican US Congresswoman Ileana Ros-Lehtinen of Florida called Chavez's death "an opportunity for democracy in Venezuela".
And former US President Jimmy Carter released a statement saying Chavez would "be remembered for his bold assertion of autonomy and independence for Latin American governments".
Russia
At the United Nations, Russian Ambassador to the UN Vitaly Churkin called the Venezuelan leader's death "a tragedy".
"He was a great politician for his country, Latin America and the world," adding he played an important role in ties between Russia and Venezuela.
United Kingdom
Foreign Minister William Hague said he was "saddened to learn of the death of President Hugo Chavez today".
"As president of Venezuela for 14 years he has left a lasting impression on the country and more widely."
The British ambassador to Venezuela, Catherine Nettleton noted when she had met Chavez he had "warmly remembered" his visits to the UK.
"President Chavez was passionate about his country and his passing will be widely felt in Venezuela," she said. "We will continue to work with the Venezuelan government to build our cooperation in areas of mutual interest."
Bolivia
President Evo Morales said: "We are saddened by the death of a caring brother who fought for the Patria Grande," adding "the oligarchs of the empire are certainly having a party" with his passing.
"We are in pain. We are crushed," he said, adding "liberation, not only of the Venezuelan people but also of Latin America's people broadly, must go on".
Morales intends to travel to Caracas and the Bolivian government has called for seven days of national mourning.
Peru
On social media and in a brief statement, President Ollanta Humala expressed his "profound sadness" to the people of Venezuela on the loss of his friend, and said he wanted to send to Hugo Chavez's family "our strength and solidarity".
The Peruvian Congress held a minute of silence in his honour.
Colombia
Colombian President Juan Manuel Santos said he "deeply" regretted Chavez's death and that the loss had "special meaning" for his country and for him in particular.
"Everyone knows we had many differences, differences in our view of the economy, differences in our exercise of government, differences in our understanding of social progress.
"But since the early days of my administration, we decided to put aside these differences to focus on the best interests of the people of Venezuela and Colombia."
Mexico
Condolences also came from the president and former president of Mexico. Felipe Calderon, tweeted, saying "let Venezuela decide its path through democracy".
Canada
Prime Minister Stephen Harper offered his condolences "to the people of Venezuela on the passing of President Chavez" and said Canada looked forward to working with his successor.
"At this key juncture, I hope the people of Venezuela can now build for themselves a better, brighter future based on the principles of freedom, democracy, the rule of law and respect for human rights."
On broadcaster CBC, former Canadian Prime Minister Jean Chretien said Hugo Chavez was "a very colourful politician who had very different policies than many of us, but I had the privilege to meet him many times".
France
President Francois Hollande said that while Chavez's "temperament and the positions he took were not shared by everyone" he expressed "an undeniable wish to fight for justice and development".
"I am sure that Venezuela will overcome this test of its democracy and stability," he added.