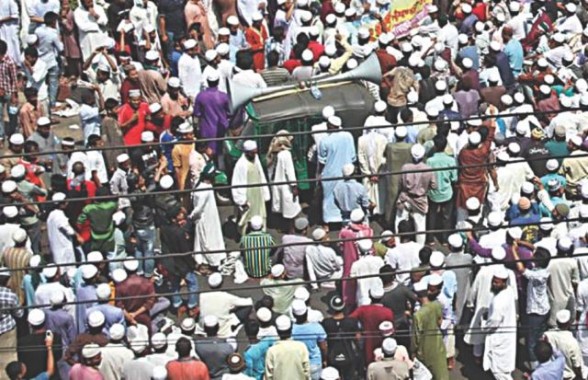 Hefajat activists take position at Dampara Wasa intersection of the port city yesterday finding no transport to go to Dhaka Photo: Star
Hefajat-e Islam yesterday announced to continue blockading the street at Wasa intersection in the port city and to set up a permanent stage there protesting the "government's obstruction" of Dhaka long march.
Speaking at a protest rally there, leaders of the radical Islamist group made the declaration and complained that they could not join the long march as the government forced the transport owners not to rent them (Hefajat men) vehicles.
Harun Izhar, publicity and training secretary of Hefajat, said they have launched the movement to save Islam, but the government compelled the transport owners not to rent vehicles to them.
It has been proved that the incumbent government is working to serve the interest of "atheist" bloggers, he added.
The transport owners, though, denied the allegation of being forced by the government. They cited the fear of torching and vandalising of vehicles by pro-hartal activists as the reason for not renting vehicles.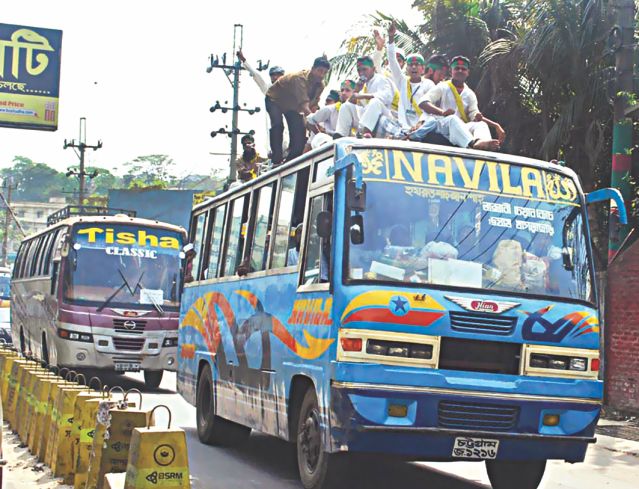 Hefajat activists on rented buses head for Dhaka from Chittagong. Photo: Star
"Pro-hartal pickets torch and vandalise our vehicles during shutdowns. As we are the victims of the attack, we are unwilling to supply buses to anyone," said Manjurul Alam Manju, general secretary of Chittagong Zilla Sarak Paribahan Malik Group.
In a bid to press home its 13-point demand, Qawmi Madrasa-based Hefajat-e Islam Bangladesh last month announced the long march towards Dhaka.
To resist the programme, some pro-liberation organisations enforced a countrywide 24-hour hartal from 6:00pm yesterday.
Hefajat supporters from Hathazari, Patiya, Satkania and other upazilas started to gather before the Jamiatul Falah Mosque near Wasa intersection after Fajr prayers.
At the protest rally, the demonstrators chanted slogans and demanded punishment to atheists for "defaming" Islam and its Prophet (pbuh). They offered Juma prayers on the street.
Commuters suffered a long tailback between the GEC intersection and Bahaddarhat from 8:00am to 10:00am due to the rally.
Md Salman, an Alim student at Al Jamiya Islamia Patiya Madrasa, joined the demonstration. He said his senior brothers collected Tk 500 from each of the students as fares to go to Dhaka.
"Reaching here from Patiya, 40 kilometres from the port city, I came to know that no bus was leaving. Around 1,000 students of our madrasa came here, but our senior brothers didn't inform us about the situation earlier," he mentioned.
Moinuddin Ruhi, joint secretary general of Hefajat, said about 250 vehicles left the port city for the capital until 10:00am yesterday.
The Hefajat men assaulted four Ekattor TV journalists who were covering the rally.