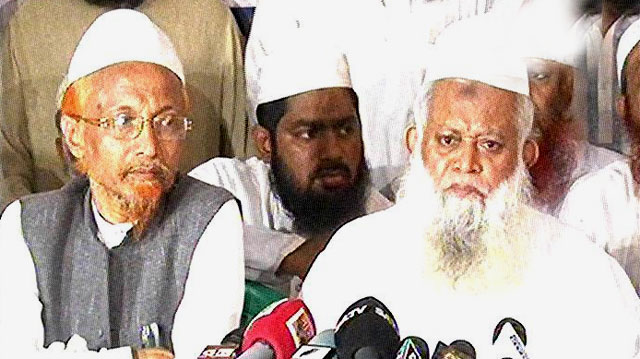 Hefajat-e Islami leaders address a press briefing at Lalbagh in the capital on Sunday. Photo: TV grab
Hefajat-e Islam has regretted Saturday's attack on journalists during its rally at Motijheel in the capital.
The Islamist organisation also announced that it will refrain from carrying out any kind of anarchic activities during its countrywide daylong shutdown (hartal) slated for Monday.
Noor Hossain Kashemi, convener of Dhaka city unit of Hefajat, made the declaration at a press briefing held at Lalbagh in the capital Sunday afternoon.
"On behalf of our leaders we express regret to the journalists who were injured by our men mistakenly," Kashemi said.
Activists of Hefajat assaulted four journalists including a woman during their Saturday long march in the capital.
Of the victims, two are reporters and two camerapersons.
The Hefajat leaders on Sunday also directed its activists not to inflict any harm to any journalists including females, Kashemi added.
The Hefajat leaders also urged the government to be vigilant during Monday's hartal and punish its party men if they involve in violence.