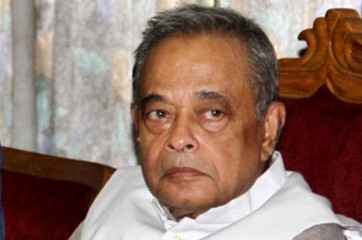 MK Alamgir
Home Minister MK Alamgir said people had rejected Thursday's hartal called by BNP and its key ally Jamaat-e-Islami and there was no fear in public mind.
"There's no fear among people during hartal hours as the law enforcers were directed to take action against the anarchists in case of any violence," he said while talking to journalists at his office on Thursday.
The home minister said what the BNP-Jamaat wanted to gain through the strike would not be achieved.
About the affected minority families, Alamgir said an initiative had been taken to provide compensation to the affected Hindus whose houses and temples had been damaged by Jamaat-Shibir activists.
"Those who tortured the Hindus and vandalised their houses and temples are coward," he said adding that they would be brought to book.
The minister claimed that now the law and order was under control as the law enforcement agencies were properly maintaining the order.
Replying to a question regarding the killing of a Jubo League activist in a clash between Awami League and BNP-Jamaat activists in Bholahat upazila of Chapainawabganj, the minister said the ruling party men could take revenge but they did not.
Later, the minister welcomed the Amnesty International report on protecting the Hindu minority in the country.
Replying to another question about the prime minister's call to form 'Terrorism Prevention Committee' in every ward, union, upazila and district to resist BNP-Jamaat anarchy, State Minister for Home Samsul Haque Tuku said the authorities concerned, including Olamas across the country, have been directed to form 'Terrorism Prevention Committee'.
Tuku said BNP-Jamaat was carrying out anti-state activities for damaging the Liberation War spirit.