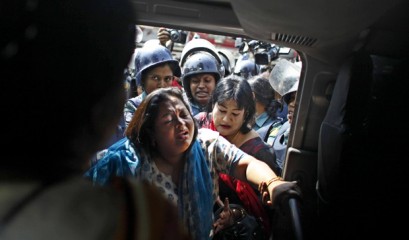 Four women lawmakers of BNP are being picked up on a police van after their arrest from in front of BNP headquarters at Nayapaltan. Photo: Rashed Shumon
Four women lawmakers of the BNP who were arrested from in front of the party's Nayapaltan headquarters in the morning during hartal (shutdown) hours were released eights hours later.
Pickets vandalised and set fire to several vehicles and blasted cocktails in different parts of Dhaka to enforce a daylong hartal (shutdown) called by main opposition BNP (Bangladesh Nationalist Party) and its key ally Jamaat-e-Islami.
Number of vehicles on Dhaka streets however was more than the previous shutdowns though very few private cars were seen plying the city streets. Rickshaws were seen plying on almost all of the thoroughfares.
Despite pre-hartal violence the previous evening, people of different walks of life came out to the streets on Thursday to attend their offices.
Garment factories and other businesses in the city remained open. Most of the shops kept their shutters down in the morning.
Some schools and colleges remained open defying the hartal. But presence of students was very thin.
NAYAPALTAN
Four BNP lawmakers including Ashfia Ashrafi Papia and Shammi Akhter were detained from in front of the party's Nayapaltan central office around 10:30am.
Police picked them up and took them to the office of Detective Branch of police on Minto Road, said Mehedi Hassan, additional deputy commissioner, Motijheel Zone.
Two other lawmakers are Rasheda Begum Hira and Rehana Akhter Ranu.
The ADC said the lawmakers started demonstration sitting on the road around 10:15am after they found the main gate of the party office locked from inside.
Police asked them to free the road as their sit-in was disturbing vehicular movements in the area, he said.
As they continued their demonstration defying police request, the law enforcers picked them up 15 minutes later, he added.
Shammi started brawling with policemen when they were pushed inside the police microbus. She fell off the vehicle along with a lady constable from the running microbus.
Constable Sharifa was sent to Rajarbagh Police Lines Hospital.
Soon after the detention, Opposition Chief Whip Zainul Abdin Farroque talked to media and criticised the police action.
The four were released around 6:15pm, Farroque told The Daily Star in the evening.
Two cocktails were exploded around 12:30pm near Jonaki Cinema Hall at Paltan.
SHAHBAGH
Two youths riding a motorcycle threw two cocktails near Ruposhi Bangla hotel around 1:15pm.
Policemen posted there fired rubber bullets at the attackers but missed to hit the targets, said a police sergeant, Amin (full name was not available immediately).
UTTARA
Pickets set fire to a stationed bus in Uttara House Building area around 8:00am.
The bus was damaged partially before firefighters from Tongi Fire Station rushed the spot and put out the blaze.
SHANIR AKHRA
A bus was vandalised near Saddam Market around 6:15am.
Activists of Islami Chhatra Shibir, a pro-Jamaat organisation, blasted four cocktails in the area around 7:00am.
JATRABARI
Pro-hartal activists vandalised a human hauler (leguna) at Bibir Bagicha in Jatrabari around 6:30am.
BACKGROUND
BNP and Jamaat declared the hartal protesting what it said Wednesday's attacks on it leaders and activists by armed ruling party men and police brutality.
Activists of Jamaat-e-Islami and its student wing, Islami Chhatra Shibir attacked law enforcers guarding a BNP rally in the capital with homemade bombs and forced them to retaliate, spoiling the rally and resulting in a clash that left around 70 people injured.
It is the second hartal of BNP in last three days. The main opposition enforced a hartal on Tuesday to protest against what it said the deaths in February 28's fierce clashes between law enforcers and rioting Jamaat-Shibir men.
Earlier, Jamaat, observed a 48-hour hartal till Monday to protest against the death penalty for its Nayeb-e-Ameer Delawar Hossain Sayedee for his crimes against humanity during the Liberation War in 1971.