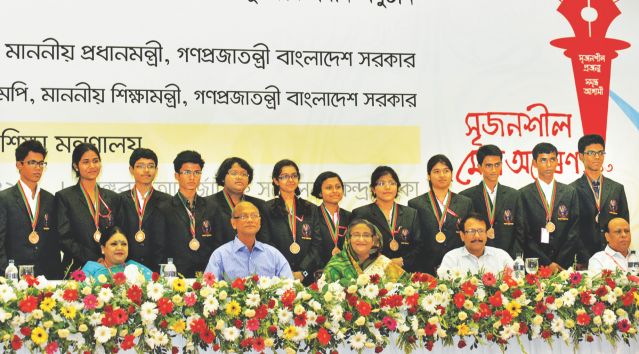 Winners in "Creative Talent Hunt Competition" with Prime Minister Sheikh Hasina at Bangabandhu International Conference Centre in the capital yesterday. Photo: BSS
Prime Minister Sheikh Hasina yesterday said the government will do everything necessary to ensure the flourishing of creative talents in the country through proper education.
She was speaking at a function marking the handing over of prizes to 96 meritorious students, including 12 who have been emerged as the best talents in a nationwide competition among the secondary and higher secondary level students.
The prime minister handed over cheques for Tk 1 lakh and a certificate to each of the 12 winners at the event at Bangabandhu International Conference Centre. Two of the best talents--Humaira Adiba and Bhuban Dey--also voiced their feelings at the function.
Sheikh Hasina said sufficient opportunities would have to be created for expanding sports and games as well as cultural activities alongside the academic activities. She said in future female dormitories will also be built in various educational institutions like male dormitories.
The competition titled "Creative Talent Hunt Competition-2013", organised by the education ministry, kicked off on March 13 at upazila level. In the nationwide talent hunt competition, students from class VI-XII of schools, colleges, madrasas and technical institutions competed in four areas--language and literature; science; mathematics and computer; and Bangladesh studies. The winners of the upazilas took part in the district and divisional level competitions. Finally, some 96 students from eight divisions--three drawn from each subject at each level--took part in the grand finale.
Education Minister Nurul Islam Nahid, Education Secretary Dr Kamal Abdul Naser Chowdhury and Director General of Directorate General of Secondary and Higher Education Prof Fahima Khatun also spoke on the occasion.