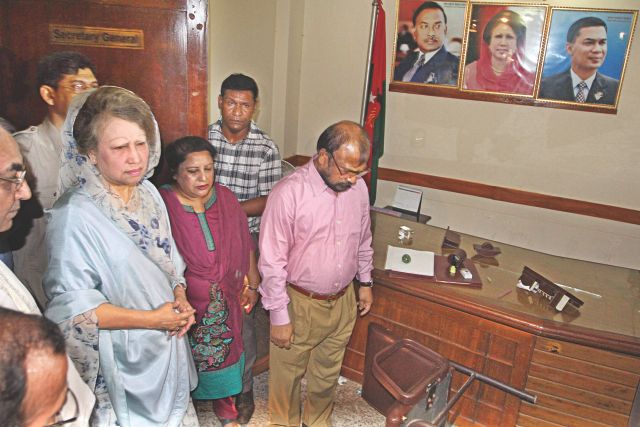 BNP Chairperson Khaleda Zia visits her party's Nayapaltan head office yesterday after law enforcers on Monday raided the office and arrested a large number of its leaders and activists. Photo: Star
The home ministry last night issued a press note over opposition leader Khaleda Zia's speech on Monday's police raid on the BNP central office.
The press note said Khaleda in her speech had tried to create confusion centering the arrest of party leaders and workers, who had taken shelter in the BNP office, and the police search for bombs and other illegal arms inside the office.
The fact, it said, was that on March 11 there was a scheduled meeting of 18-party alliance in front of BNP's central office. Centering the meeting, Dhaka Metropolitan Police had taken adequate security measures around the party office to make the programme secure.
At the end of the meeting, according to the press note, unruly leaders and workers exploded eight to 10 homemade bombs as suddenly hartal programme was announced from the meeting for Tuesday (March 12).
They went on the rampage by creating obstacles on the streets, set fire to rickshaw vans, threw brick chips and stones towards nearby buildings and damaged public properties. At one stage, they threw homemade bombs and brick chips at police standing in front of the Nightingale intersection.
Police repeatedly asked them to refrain from destructive activities but they continued their destructive activities for 30 minutes. At one stage they tried to snatched arms and ammunition from police, who were on vigil near the BNP central office and rooftops of the nearby buildings, and tried to kill them.
Considering the violence, on duty policemen had taken necessary steps to save their lives and ensure safety and security of people's lives and property, resulting in dispersing of unruly people from the spot and arrest of 30 to 40 people for their alleged involvement in vandalism.
By this time, the press note said, a number of homemade bombs were thrown at the policemen from BNP central office forcing law enforcement agencies to conduct a search inside the party office to capture culprits. During the search, police recovered 10 homemade bombs and arrested leaders and workers for their alleged involvement in destructive activities.
People witnessed the live telecast of the destructive activities of BNP-led 18-party alliance on a number of private TV channels, the press note said.
It said police entered the Awami League central office on Bangabandhu Avenue breaking open the locks and damaged important party documents during the tenure of the last BNP-led government on March 1, 2004.
The press note said at that time there was an effort to provide the people with misinformation by snapping the power lines to the Awami League office. It said bombs recovered earlier from other places were shown to Sheikh Hasina and she was told that those were hurled from the AL office.