Photo: Sazzad Ibne Sayed
On Saturday, 23 February Star Lifestyle hosted a discussion on 'Gender sensitivity and the role of parents', which was moderated by its editor, Raffat Binte Rashid. The discussion featured participants from various backgrounds and walks of life. The discussion opened with an examination of the role of mothers as a child's first teacher in shaping their perspective.
Najma Alam, a teacher with over 25 years of experience with Sunbeams School, took the microphone and in her introductory speech recollected her childhood days. "We were four brothers and two sisters growing up together and we sisters were expected to give food to our brothers. We were taught that the chicken drumstick should always be reserved for the male members of the family."
In her own words, one could find the anguish of a girl child in almost every family.
"But we were also termed "Ghorer Lokkhi" (the deity of the household) and truly loved by all," she added.
Paula Aziz, coordinator of the Prothom Alo Trust, presented anecdotes from her own childhood, which seemed a lot different from what Alam had been through.
"I had been brought up like a boy. I cycled till I was in college, I learned karate, debated, stayed till late in school, and I only started wearing kameezes in university, that too because it was expected of me," Aziz said.
Even when a family is open and free from prejudice, one may face situations when society pressurises women to take a particular role. Aziz considers herself lucky, however. "Even today, I have more male friends than female friends. I feel like I behave more timidly with my female friends."
Shifting the tone of the conversations, Raffat Rashid asked Sajal Khaled and Tahmina Khan Shaily to share their experience as a parent to a one-and-a-half year old. There insights as a young couple provided some interesting revelations.
"When my wife conceived, everyone asked whether I wanted a son or a daughter. I was careful never to answer the question directly.
If I had a hidden desire to have a boy, and had a girl instead, one day that very girl might have felt unwanted," opined Sajal, an accomplished film-maker and mountaineer.
His wife, Shaily, a former journalist and now proprietor of a boutique, on the other hand had something altogether different to say.
"When I conceived, I knew I wanted a son and I have my reasons. I have grown up with a younger brother. In school, even though I had better grades, I never really got appreciation from my father."
Such behaviour is not altogether uncommon in Bangladeshi society. Judging Nazma Alam's experience along with that of Shaily, we see the same notion of inequality being mirrored despite the fact that they are from two different generations. Continuing on a grim note, Shaily further added, "I felt that if I did things boys would do, my father would acknowledge my achievements. And I have seen this pattern of men always getting preferential treatment in school, college, university and finally the workplace.
"After getting married, career-wise I could not progress much  because it's just really difficult to manage a household and a child, even though my husband supports me immensely."
In a blunt assertion, Shaily said "I knew if I had a girl, she would face the same barriers I had faced; that she would have to make sacrifices  just because she is a girl."
Faria Ahmed, CEO, Career Solutions agreed with Shaily's experience and reiterated the fact that it is the women of the house who end up making the sacrifice. When it comes to "work vs home", women are not left with many options.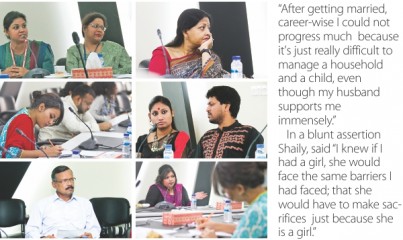 Photo: Sazzad Ibne Sayed
"My parents are both doctors, but my mother gave less importance to her work when I was born so that she could take care of me." However, as far as her upbringing was concerned, she enjoyed her childhood to the fullest. "When I was younger, I never faced discrimination. My father taught me to swim before I was five years old," added Ahmed. Rashid then opened the floor for discussion on how young parents, or parents-to-be would like to instil values of gender sensitivity and equality among children.  Dialogue among the participants made it clear that although we consider the home as the first 'school' for children, society plays a tremendous role from the very beginning. Tasneem Iqbal Ali, Senior Section In- Charge, Universal Tutorial, shared one of her awkward experiences. "When my eldest son was two-and-half, I was one day getting ready to go out. Seeing me in a sleeveless dress, he demanded that I change the dress. He refused to go outside with me wearing a sleeveless dress."
On the other hand, Paula Aziz believes that her son doesn't fully understand the differences between a boy and a girl yet. "Arshan, my son, doesn't have a sister or a close female cousin, but when he needs help with something, he always asks his father because he says he thinks his father is stronger than me.
"I make my son water plants, feed the fish and help clean his belongings but as my husband isn't interested in these little chores, my son thinks they are a woman's job."
Aziz further added, "I believe fathers have a huge role in teaching their sons about how to respect women. People tend to learn a lot as children." She went on to cite an example she herself faced as she grew up.
"My father has always asked my mother to fetch him a glass of water, or the newspaper, or something else, but I have never seen my mother do the same. For this reason, I have not learned to ask my husband to fetch me something, although I don't hesitate when he asks me to get a glass of water for him. But when my husband asks me for water in front of my son, I always tell him to get it himself."
Sajal and Shaily believe that both parents should work equally in the household, although not necessarily the same chore. "In our home, although I don't cook, I help Shaily with all other household errands. I think it is very important for my son to see how I treat my wife and other women so that he can learn to behave in a similar, respectful way."
Faria Ahmed believes that everyone, in every aspect, has a role to play in creating a more gender sensitive society. "Small, day-to-day gestures by people can make a difference and so anyone can be an idol," she said.
The matter of sex education also came up in the discussion, although opinions varied as to whether this should be introduced at home, or taught at school.
Tasneem Iqbal Ali said, "I hear countless stories of Bangladeshi youngsters taking wrong steps and making crucial mistakes in life when they go abroad to study; their foreign counterparts, whom they associate with are, however, careful not to make similar mistakes simply because they have always been exposed to such things from a tender age.
"I do feel that if children here were educated regarding their sexuality from a young age, they wouldn't get into so much trouble in later life."
Sajal and Shaily however raised a valuable objection to the notion of introducing sex education in the curriculum.
"Although I want to raise my child to be gender sensitive, I think, objectively, boys and girls are very different, both physically and psychologically, so there are times when they have to be treated differently. I am not saying these differences are barriers, just that, they need to be acknowledged," said Sajal.
Shaily further added, "I think these matters should be handled at home and should be a part of our everyday behaviour that the child can learn from. If gender sensitivity issues go into a textbook, it will become a separate topic even though it is really an integral part of your life."
Paula Aziz agreed that males and females have physical and psychological differences which must be acknowledged first.  An accomplished teacher may teach sex education well, but mediocre teachers might make matters worse than they actually are. She said, "Maybe it's better to have a child psychologist come in for these discussions, and carry out interactive games, etc. so that we know that our children are learning from someone competent."
Reflecting on her vast working experience as a teacher, Najma Alam believes that sex education, if imparted in schools must be done so by people experienced in handling such matters. "This is a sensitive issue and due care must be taken" she opined. The last question for discussion thrown across the table was: "Is positive discrimination essential in today's world?" And once again the heated discussion yielded some startling points.
"As a child, I used to get more beatings from my parents, not because I was a girl, but because I was more disobedient. Parenting-wise, instead of focusing too much on gender sensitivity, I want to promote and practise the good qualities of a human being, and I believe that is good enough," said Paula Aziz.
She further added, "This topic is tricky and needs careful handling. For example, if I have a girl, it doesn't mean I should be biased towards her because she is female."
Sajal drew from his experience as a mountaineer and struck a pertinent point. "We need to positively embrace the gender differences. As a mountaineer, I often have to spend more money to finance a female mountaineer rather than a male, but I still send the girl anyway because I consider it more important for her to go."
Faria Ahmed, the youngest and the most vocal of the participants, shared her opinions.
"I am a relatively small entrepreneur, but if larger corporate companies stopped making gender based recruitment, it could create a significant impact. When a girl goes to a job interview, she is asked, "Are you married? When do you plan to get married?" etc. The message is pretty clear and she knows that if she says she is getting married she won't get the job" she felt.
Taking a tangent to the discussion, Faria Ahmed shared an insight, "During my teens, I first noticed the difference. There was now a pressure to get married. One of my female relatives got divorced, and people were passing comments like, "This is the problem with girls who are too educated."
Her question was, is it the identity of a woman to breed, or can she really hope to establish an individual identity? "A woman staying unmarried till 30 seems like committing a crime, while if a man does the same, he is considered an eligible bachelor.
When I have children, I want to instil the belief in them that they are human beings first, and their gender identity comes later".
In his brief speech Dr. Salahuddn Ahmed, Managing Editor, The Daily Star said that people need to acknowledge each other as human beings first. It is difficult to change the society as a whole, but it is possible in a family setting. Parents are the primary providers of values to their children and this is where work should really begin.
After a wonderful session and exchange of ideas, moderator Raffat Binte Rashid wrapped up the proceedings sharing that men and women are physically and psychologically different, but on a social level they should be equal.
"Although society does play a role in moulding the mindset of the people and little children, a lot can be achieved through sensitive behaviour from parents. Mothers are the first teachers and thus gender sensitivity learning begins at home" she said.
Photo: Sazzad Ibne Sayed