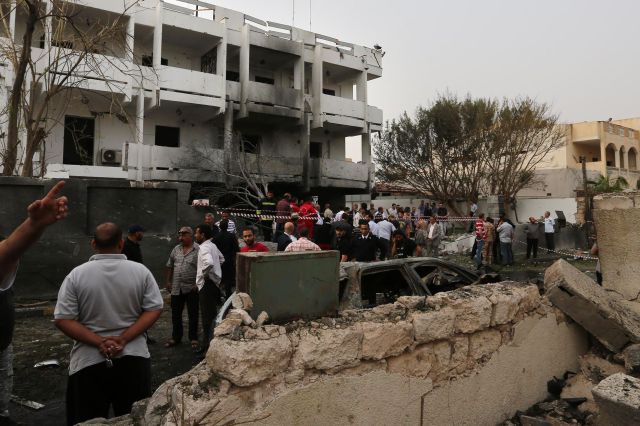 Libyan security forces gather outside the French embassy building in Tripoli following a car bomb attack yesterday. Photo: AFP
A car bomb hit the France embassy in Libya yesterday, wounding two French guards and causing extensive damage in the first attack on a foreign mission since militants stormed the US consulate in Benghazi in September.
Libyan Foreign Minister Mohammed Abdel Aziz branded the act a "terrorist" incident, and French President Francois Hollande said Tripoli must act quickly to find the perpetrators and bring them to justice.
A diplomat in Paris said French Foreign Minister Fabius would fly to Tripoli later in the day.
The attack comes as Libya continues to suffer from a lack of security following the 2011 ouster of long-time dictator Muammar Gaddafi and as French forces are engaged in a battle against Islamist extremists in Mali.
The explosion occurred around 7:10am, Tripoli security chief Mahmud al-Sherif said, after an explosives-laden car was parked outside the mission's front door.
Sherif said "this was not a suicide bombing," adding that "we face several threats and enemies, and it is too early to point to any party in particular."
An AFP correspondent said the wall surrounding the property was destroyed and the embassy building extensively damaged.
The explosion, which created a deep crater in the street, destroyed two cars parked nearby, damaged two neighbouring villas and blew out the windows of a shop 200 metres away.
A French source said one guard was seriously wounded and another lightly hurt in the attack on the mission, housed in a two-storey villa in the upmarket Gargaresh area. A girl was also injured in the attack.
Since Gaddafi's fall, Libya has been plagued by persistent insecurity failures. The violence in Libya is often blamed on radical Islamists persecuted under Gaddafi and who now want to settle old scores, while security remains the prerogative of militias in a number of important areas.
Armed jihadist groups hurt by the French intervention in northern Mali had threatened retaliation by attacking French interests across the world.