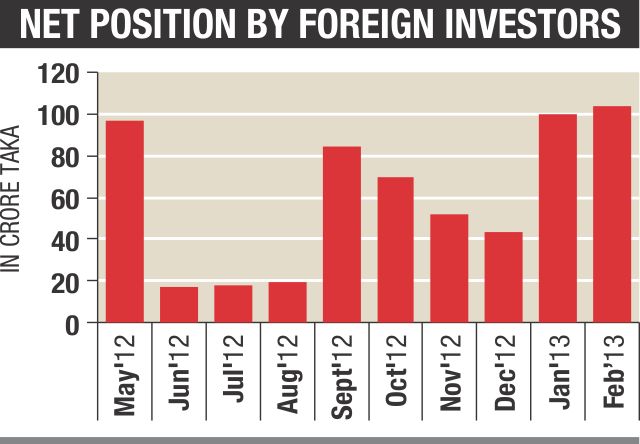 The stockmarket received Tk 103 crore in foreign investment in February, the highest in ten months, on the back of rallying fundamentals.
"The tremendous performance last year in most of the vital economic indicators proves that Bangladesh is one of the most lucrative investment destinations," said Kh Asadul Islam Ripon, managing director of City Brokerage Ltd.
In February, foreign investors bought shares worth Tk 179.93 crore and sold shares worth Tk 76.36, according to Dhaka Stock Exchange (DSE). The net foreign investment receipt, of Tk 103.57 crore, was an increase of 3.84 percent from January.
The "staggering" corporate growth rate of 22 percent last year, the foreign currency reserve crossing the $14-billion mark recently and the easy monitory policy targeting private sector credit growth, portray "a rather promising growth story", said Ripon.
"Furthermore, the country's secondary market ratios are very competitive when viewed against the peer countries," said the chief executive of City Brokerage, which trades on behalf of some foreign investors.
City recently initiated an aggressive marketing campaign abroad and is upbeat about luring in substantial foreign investment.
Other brokerage houses, too, are expecting higher foreign investment, as the central bank recently allowed local stockbrokers to share trading commissions with their foreign counterparts.
Previously, commissions from making trade on behalf of investors referred to by foreign stockers went solely to the local brokerage houses, an act which discouraged foreign stockbrokers from participating in the country's capital market.
Foreign investment, also known as portfolio investment, accounts for less than 1 percent of DSE's total market capitalisation.
In 2012, foreign investors bought stocks worth Tk 1,348.41 crore, while sold shares worth Tk 555.8 crore.
Banks were the foreign investors' preferred sector, but non-bank financial institutions, power and energy, pharmaceuticals, multinational companies, telecom and IT also caught their attention.