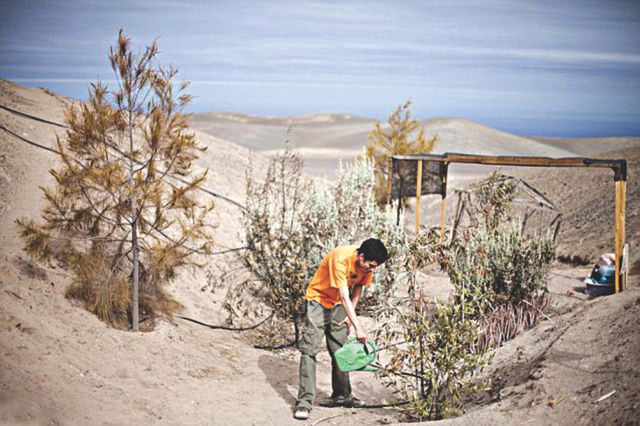 A local waters a garden with the fog water. A local waters a garden with the fog water. Photo: Mailonline
It is the driest desert in the world, with some weather stations there having never recorded any rainfall.
But the Atacama Desert in northern Chile may come to life as researchers use water collected from fog to grow plants in the previously desolate area.
Photographer Neil Hall captured images of locals at the village of Chanaral who use huge specially designed nets to gather water from vaporised droplets in the air.
The striking photographs show a process that may help reverse the desertification of the area.
Scientists at the Alto Patache research centre, run by the Universidad Catolica have shown that water spilt during the collection of fog water has led to a variety of plantlife growing in the desert.
Another local is seen with fog collecting net. Photo: Mailonline
The garden grew from seeds hidden in the desert for many years. Later experiments showed that by using fog water the desert could be transformed and turned into large scale farms and gardens.
The Atacama Desert, spanning from Chile to Peru, is considered the driest place on Earth. It is so arid that even mountains reaching as high as 22,589 ft are completely free of glaciers
Although there is no water on the ground, moisture in the air from a heavy coastal fog passes through the net and condenses before travelling through pipes into tanks where it is stored.
The fog collectors are huge nets hung between two poles and are made of a polypropylene mesh that captures the droplets.
When the droplets gather together they then run into the storage tanks.
The water is pure for drinking and can be used for agriculture, with a collective in the village of Chanaral use the water for small-scale aloe vera farming.
However, if the process was used on a larger scale the possibility to change the hostile desert environment is great.