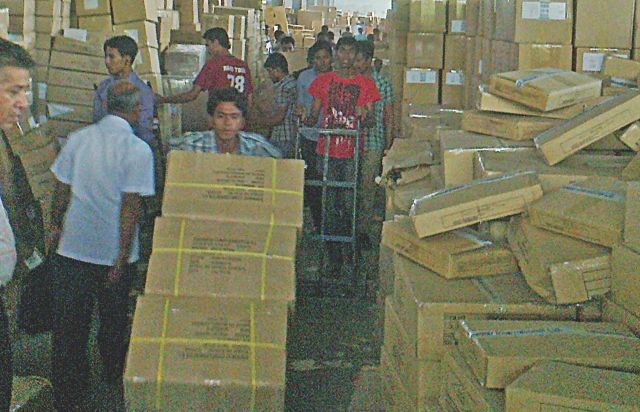 Boxes filled with clothes pile up at Shahjalal International Airport as the export-oriented garment industries opt for air to ship their cargoes instead of the traditional shipment via sea. Frequent hartals have forced many factories to switch to expensive air freight. Photo: Shariful Islam
In a scramble to meet tight deadlines amid frequent hartals, garment exporters have turned to air shipment, to stretch the cargo handling infrastructure beyond its capacity.
The storage facilities at Shahjalal International Airport are overflowing with cartons, with many lying in the open -- and exposed to the elements.
Outside, a long tailback can be found, bringing in more cargo for shipment.
"Till December, we needed seven cargo planes a week. But since January, we have been running seven to eight cargo planes daily. And yet, the cargo storage facilities are overwhelmed," said Arshel Arafat, assistant vice-president of Bismillah Airlines, one of the two private cargo carriers of the country.
So far this year, his company has marked around 25 percent growth.
Between December and February, 43,615 tonnes of goods were shipped by air, a 52 percent rise year-on-year, according to data from Biman Bangladesh Airlines, which provides handling facilities to cargo carriers.
To maintain the lead time set by international buyers and keep reputations intact, exporters typically turn to the costlier air shipment option at this time of the year.
But this year, the pressure on the facility has mounted thanks to the spate of hartals and the accompanying violence.
Officials at Biman said around 32 to 35 scheduled passenger flights and air freighters were carrying cargo daily, along with the three to seven non-scheduled chartered flights.
Meanwhile, garment exporters and cargo operators blamed the lack of skilled manpower and equipment of Biman's ground handling section for the chaotic state.
"It is supposed to take seven hours at most to load a cargo flight, but now we have to wait for two to three days," said an official of a private cargo operator, wishing anonymity.
Out of desperation, many of his clients hired manpower themselves to load the carriers, adding more to their already bloated shipment costs.
Atiqul Islam, president of Bangladesh Garment Manufacturers and Exporters Association, said weak road communication, poor infrastructure, inadequate and disrupted supply of gas and power to factories are delaying production and shipment.
"So, the garment exporters had to send goods by air to maintain the lead time set by buyers. Otherwise, they face order cancellations, discounts and ultimately, the loss of image of their company."
It costs $0.07-8 cents for a piece of shirt, but the rate goes as high as $2 per piece in cases of airfreight, Islam said.
"With air shipment, the garment exporters do not have any profit. Rather, the loss has to be covered from own funds."
The country exported garments worth $13.83 billion in the first eight months of the fiscal year, according to the Export Promotion Bureau.