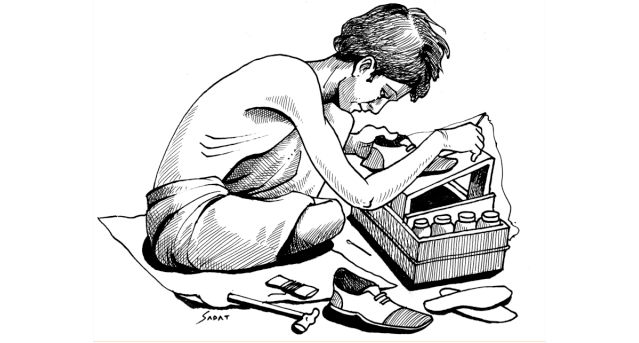 Gobinda Biswas, a cobbler, looked gloomy. He sat idle near the main entrance to Dhaka College, with a shoe polishing kit next to him, hoping a customer would stop by.
It was only noon with a thin presence of people and vehicles on the streets amid fear of violence by pickets.
Gobinda earned a mere Tk 80 that morning, barely enough to buy food for his family of four. "If I cannot earn enough, my family has to starve," he said.
"I usually do not come out on hartal days, but now that this has become a regular affair, I have no option."
The cobbler, the sole earner in his family, lives in Lalbagh and has to pay Tk 3,000 a month as house rent and needs at least Tk 3,000 to buy food and other essentials for the family.
Gobinda said he earns Tk 400-Tk 500 a day on the usual days, but his earnings drop to Tk 100-Tk 150 during shutdowns.
Incessant hartals enforced by the opposition parties wipe out much of his earnings. Since January, the country saw 23 days of strike, including the ongoing 36-hour shutdown that started yesterday; 17 such days were in March and April alone.
Gobinda said he could not pay house rent in the last two months, let alone feed his family three meals a day.
"I have to borrow from my neighbours to run my family. But how long will they help me?" said Gobinda, who became a cobbler 10 years ago after he lost his job at a polythene factory as the government banned the use of synthetic bags.
Gobinda is not alone is his struggle. The shutdowns have put many like him in a similar sorry state.
"My daily earnings have come down by half due to the hartals," said Rubel, another cobbler who sits near the central Shaheed Minar. His usual customers include medical representatives visiting the Dhaka Medical College and Hospital, students and hospital visitors.
Van and rickshaw pullers also feel the pinch with few people strolling on the streets.
"It is a bad day for us. We have to pass time with little work," said Mohammed Akram, a young van-puller sitting idle on the roadside near Chankharpul area.
On a normal working day, Akram earns Tk 500-Tk 700 on average, which drops to Tk 200-Tk 300 during shutdowns. In addition, he has to pay Tk 100 a day as rent to the van owner.
Akram lives with his mother who works as a domestic help for Tk 6,000 a month. "It would have been tough for us these days if my mother was jobless." The two live in a rented house in Sutrapur of old Dhaka.
Rickshaw puller Md Idris Miah said, "Although we can pull rickshaws on all the streets in the city during hartals, we have to charge below normal fare because of competition."
On hartal days, he has to charge a fare of Tk 10 for a distance that he normally charges Tk 15.