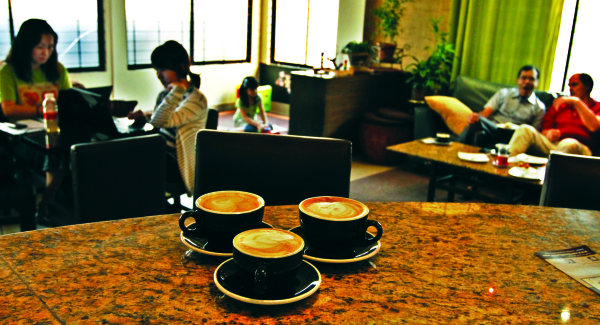 Café culture has strayed from serving just coffee but passionate coffeehouses are helping each other to improve Dhaka's coffee culture. Photo: Prabir Das
In a capital with innumerable food places – cafés, restaurants and lounges – it's hard to believe that just over a decade ago many of them did not exist. The turn of this century resulted in not only a rise in new technologies and social advancements for Bangladesh, but also an unprecedented number of cafés and coffee hang outs. The traditional local tea stalls and canteens still flourish beside these business enterprises, suggesting that the rise in café culture has not stolen business but rather filled a gap in the market.
"My older brother says I'm lucky because there are places to go and hang out with my friends now," says 22-year-old Rezwana Munim. "Eight or so years ago when he was my age, he'd hang about in the streets or make a point of going for dinner with friends – and even then, it was either Bangla or Bangla-Chinese food places," the student says as she waits for her order of pasta with chicken in a white sauce at Ajo, a café next to Dhaka Art Center in Dhanmondi.
Teacher Sharmin Aktar agrees she's seen an increase in fast food outlets and casual dining spaces. "I'd say it started 15 years ago, and every year there's a couple of new places that open or re-launch to grab people's attentions again." The mother-of-two, who was sharing a sandwich with her husband at Bittersweet Café near Gulshan 2 circle, says, "Cafés offer food and drink without the expectation that you have both like they do in restaurants. I mean, it's five o'clock now and look at this place. It's buzzing with people regardless of the time and a restaurant would not only be formal but dead right now."
Historically cafés have been an important social gathering point in Europe, particularly for intellectuals, writers and artists. They were – and continue to be – venues where people gather to talk, write, read, entertain one another or pass the time. Traditionally they served coffee and other hot drinks but the modern day coffee houses, both abroad and in Bangladesh, have branched out to provide juices, pastries, sandwiches, soups and other quick and light meals. The most recent addition to most menus is wireless internet access.
"I work freelance so don't have an office," explains 28-year-old Shumon Chowdhury. "I can't work well at home for various reasons so coffee places are my work place. I alternate cafés so I don't eat and drink the same lunch every day, which yes, makes things expensive, but what I tell myself is, my costs are like the office rent and I get the perk of free internet."
Fast and informal food at cafés and lounges is certainly a big part of the appeal for many people, particularly those who wish to chill out with their friends. "I used to always go to The Bench in Gulshan 1, which showed sports games on TV and had a ping pong table," says Raitul Hossen, a 20-year-old business major. "It was a 'student hang out' but it's closed at the moment and I think re-launching as something else. We do need more places and the ones that are around need to pick up their game – there is sometimes more staff to people and you still don't get served a simple coffee or the food is boring."
Commonly thought to be a second home to students, cafés also offer a safe haven for young professionals to enjoy space from their responsibilities at home and for couples to meet away from judging eyes. "I come here [Café Mango in Dhanmondi] because it's not too far from my and my girlfriend's office so we have lunch together occasionally," says a young professional who preferred not to be named. "We also go to Café Soi 3 nearby which opened recently but neither place is exceptional for its food or drink. What they have going for them is their nice decor and setting." His girlfriend adds, "There's so much pressure at social gatherings organised by families to behave a certain way so in casual venues like cafés we don't have to worry about who sees us together or smoking because most people are there for the same reasons."
"A lot of young people hang out at cafés to kill time, but it's a perfectly good place to do informal business meetings," says Shahir Farhan Islam, a 38-year-old businessman. "There are a lot of places that specialise in selling a certain aspect of the café culture. You have your serious coffeehouses like Coffee World, CoFi 11, and Barista, and then those eateries that offer a relaxed environment like Crêpe-au-lait – the name gives away their speciality – and Kozmo Lounge, which puts on live music events." Islam concludes that, "Each place appeals to a slightly different crowd depending on its edge."
Hollywood Café in Banani is one such place with an overwhelmingly Hollywood-themed edge. Framed posters of movies and actors decorate the recently re-launched venue, which runs five films a day on a large screen and has a shop with movie merchandise and memorabilia. Archita Kundu, the café's CEO, says, "We have thought of something for everyone, so my parents could enjoy themselves here while I watch a movie and my nieces and nephews play in the kids' corner. We want people to come out of their homes, not just for food but for a total Hollywood experience." She adds, "We have batman and superman shaped pizzas – it's not just the name and environment that's thematic – it's everything!"
With every neighbourhood making space for at least half a dozen cafés, you would think the need for more would be dying out. However, independent cafés are thriving and opening second, third and fourth branches while international chains are eyeing up the market and making themselves comfortable among established businesses. Many venues stay open so late some customers arrive after dinner and socialise past midnight. In less than two decades the rise in café culture has changed many road fronts as well as the way people eat, drink and socialise. To those who knew a Dhaka without cafés, this probably feels new, but many can't imagine an urban lifestyle without them.
A GOOD CUP OF COFFEE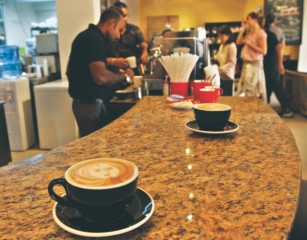 Photo: Prabir Das
take it as a compliment that people want to come here more often. That's my positive spin on that," he jokes.
Situated on a busy main road full of metal workshops, the homely but slick-looking North End's primary branch is an unusual location. "It did come down to a financial decision in the end considering the rents in Gulshan and we were a new company not clear about everything we were getting into," explains Rick as he personally operates the shiny new machine to roast coffee. "This wasn't our first choice but in the end I'm thrilled to be over here and we plan on keeping this location as our headquarters." The Roaster and Barista says, "I'm convinced that if you're willing to do something well in Dhaka, you'll not have a hard time, people will travel. They'll come to this road." And come they do as tables remain full for most of the day, "If you come in the morning you might think it's for expats but if you come at four or five, it's 90 percent Bangladeshis so it's a really nice mix, where people of different backgrounds feel comfortable."
The menu is simple, with half a dozen pastries on offer, because quality is what they strive for, says Rick. "My wife is a perfectionist and we are putting a full pastry kitchen and shop two floors above us so we will be offering more. It's simple compared to a lot of cafés, we want it simple. Our motto is 'craft great coffee, create great community' and this is what we want to put our time, money and effort in – on getting good people trained, knowing their product and creating a place where a mix of people can come and appreciate good coffee. When we say 'create great community', we're also referring to building communities in the Chittagong Hill Tracts where we've helped farmers to plant coffee and promised to buy 100 percent of their produce. It's not just a business for us, we want to be a social enterprise of sorts and work with different people."
North End's founding couple first came to Bangladesh after their marriage in 2002 to teach in a Chittagongian school. While later working in the US, Rick as a Starbucks manager and Chris as a pastry chef, the South Asian country remained in their thoughts until they returned in 2009 with the goal of setting up a coffeehouse. The venture was not a smooth ride and took the couple almost a year and a half to launch.
Soon to celebrate North End's second anniversary later this month, Rick says, "In most places there's a culture of competition but we just don't view it that way. We see Dhaka as a big enough market that we can work with other companies and cafés. We train and supply other cafés and we'll even put their name on the coffee packets we roast, that's kind of the odd part of who we are. We want the whole coffee culture to go up and we feel we can improve coffee in Dhaka and at the same time run a good business – I don't think it is an either or type of thing."