From the scorching sun that beats down with all her might to the notorious Kalboishakhi who ravages everything and leaves destruction in her wake, Boishakh is truly splendid. In Bangladesh the New Year is ushered in among heady celebrations, as the old is forgotten and cast away to make way for the new. The spirit of Boishakh is indomitable and contagious as the whole country engages in wondrous celebrations and festivities.
Many of us have already decided what we want to wear to welcome Boishakh. That beautiful white handloom sari with a fabulous red and golden border has been chosen and bought, along with other requisites such as glass bangles. The menu for the lunch has also been decided. However another crucial aspect is home décor. The enthusiasm surrounding Boishakh is pervasive, so why should your humble abode miss out? In order to make your Boishakh experience come full circle and preserve your reputation as a smart hostess, Lifestyle has simple ideas you can use to add a touch of that Boishakhi zeal to your living quarters, keeping in mind the festive fervour and enthusiasm!

Seasonal changes in décor should be such that it will express one's creative side, yet in an easy, sustainable way while going easy on the pocket. Making any major changes is not the idea; a few simple, inexpensive tweaks are all that it takes. The highlight of any Bengali occasion is the dining table. The ubiquitous Boishakhi lunch or dinner spread is culturally significant and essential to the enjoyment of the event. You can bring the Boishakh fervour to your dining table by way of using terracotta dinner service for your party instead of the usual china or porcelain. Widely available in Aarong and the makeshift shops lining the outskirts of Shishu Academy, these clay utensils are an easy, simple and inexpensive option. They are sold individually which is great for customisation. Banana leaves can be used as place mats and coasters placed under them to great effect. They can be sourced from local wet markets and cut and shaped as desired.
We Bengalis love to lounge around after a sumptuous meal of bhaat and elish maach bhaaja, enjoy adda with friends and family. The usual plush sofa can be substituted with shitol paati spread on the floor for an afternoon of light entertainment. Known for their cooling properties, shitol paatis can be a source of great relief from the sweltering heat of Boishakh. Cushions or pillows with frilly covers in bold colours can be added for further comfort and beauty. A colourful, large haathpaakha reminiscent of sleepy afternoons in our grandmothers' palonko can be kept around to beat the heat in a true Bengali fashion. Nowadays, we are used to having fancy, imported curtains in our houses, but there used to be a time in Bengal when raffia or straw mats known as shurki were used as curtains to keep out the harsh sunrays. You can recreate the magic of the lost era by replacing some of your usual ones in key spots such as the living room or parlour with these mats for the day that are available everywhere and are inexpensive too.
Crystal or porcelain vases are an absolute favourite with most women, but for Pohela Boishakh that routine can be given a rest. Stow away that heavy, hand-cut crystal vase and proudly display an earthy, rustic terracotta pot as a flower vase. And the flowers can be marigolds, tube roses, jasmines instead of the carnations and lilies that we use year round. Put one of these vases with such fragrant flowers as a centrepiece and there's no need for artificial air fresheners.
The time between afternoon and evening is an enchanting one; that cusp of a time when the sun sets to make way for the night. It is also the perfect snack time for us Bengalis. Be creative and serve quintessential Deshi snacks such as batasha, narikel chira, moa and morobba in earthenware pots and bowls. Kaacha aamer bhorta, another Boishakh favourite can also be served in a clay plate. Boishakh is the time when many luscious fruits appear in markets. Arrange some of the Deshi fruits such as kodbel, lotkan, boroi and aata in a clay fruit bowl and let your guests try delightful local produce. Serve scrumptious pitha in a large koola and use the small ones as serving dishes to add a wow factor to your Boishakhi spread. These are available in local markets and New Market, the one stop shop for everything under the sun.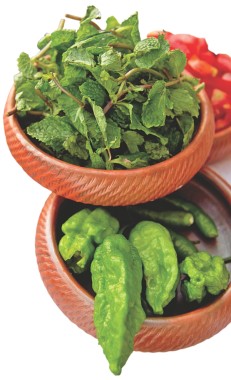 As dusk falls another segment of celebrations begin. Give a pass to your table lamps and use thick pillar candles to illuminate your rooms. Use long-stemmed clay candle stands in place of lamps and watch your usual rooms transform into magical spaces. Floating candles can also be used to add extra sparkle. Brass utensils were used extensively by the people of Bengal once, and so can you to recreate some of that lost magic and sense of grandeur. Though a bit pricey, one or two articles can be added to the dining table to spice things up. What's more, these articles bought once can be used for years to come. Drinks such as tetul er shorbot or kaacha aamer shorbot can also be served in small brass glasses that are available at Aarong, New Market and Elephant Road. Keep a platter of paan to offer as after-dinner refreshment; a vintage brass nutcracker can be used to slice shupari and lend an air of nostalgia.
The great bard Rabindranath Tagore encouraged us to embrace Boishakh with open arms and let the wave of anticipation and optimism wash away the murky remains of days gone by. The Boishakhi spirit is resolute and omnipresent and brings us all together to welcome new beginnings collectively. Keeping that message in mind, redecorate your living quarters in simple ways and usher in the New Year with the renewed promise and hope of a wonderful year ahead.
Photo: Star Lifestyle Archive