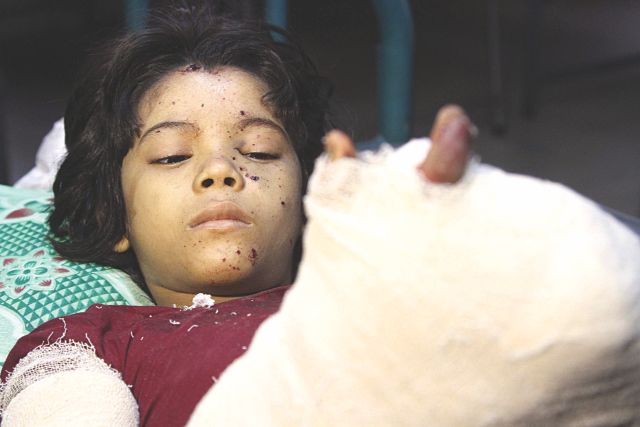 Tania in the burn unit of Dhaka Medical College Hospital yesterday after unknowingly handling a homemade bomb her brother picked up from the street and brought home. Doctors say that she could lose three fingers of her right hand. Photo: Palash Khan
Little did he know about the danger lurking in that can-like object wrapped in black tape.
When 11-year-old Al Amin saw it outside the Hazaribagh Park playground yesterday, he picked up the object to use the tape for wrapping a tennis ball he bought with his savings on Sunday.
He brought it to his tin-roofed house at Hazaribagh without any clue that the thing was an explosive, which would put his sister's life in danger.
Al Amin unwrapped the tape from the object, wrapped the ball with it and asked his 10-year-old sister Tania Akter, to throw the useless object out of the window.
As Tania tried to throw the object out, it hit the metal bars of the window, triggering an explosion that badly hurt Tania's right hand.
Tania, whose father Abdur Rashid is a rickshaw puller and also a night guard, is now receiving treatment at the Burn Unit of Dhaka Medical College Hospital.
She is the latest victim of stray bombs that are often used in hartal and political programmes.
On March 23, two minor girls -- seven-year-old Kulsum Akhter and her niece five-year-old Riya Akhter -- were killed in a cocktail blast in the capital's Mirpur area. The cocktail went off while they were playing with it.
On March 28, Antu Barua, a class-IX student in Chittagong, sustained severe injuries in her eyes when a homemade bomb exploded during hartal hours.
Tania, a class-II student of Hazaribagh Nure Hawa Mohila Madrasa, sustained injuries to the right hand, wrist, face, and left shoulder, said doctors at burn unit. They feared three fingers of her right hand might have to be amputated.
"But it would take at least 24 hours to say whether we can save the fingers or they have to be amputated," Nasim-e-Tasnim, a medical officer at the burn unit, told The Daily Star.
Al Amin, who works at a ballpoint pen factory, went to the playground to get some fresh air, some 150 yards off his house, at 7:00am on his day off yesterday.
He noticed the object in a hole while he was responding to the call of nature outside the playground's boundary walls.
"I had no clue that it was an explosive," he told The Daily Star.
Tania's father said he and his wife were asleep on the floor when the explosion happened around 7:30am. "We woke up and saw Tania screaming."
Tania's mother Anwara Begum said her daughter is another victim of the country's political violence. "Even if her fingers are not amputated, she will have to suffer for the rest of her life, as her right hand is badly damaged."
Mohammad Iqbal, officer-in-charge of Hazaribagh Police Station, said they are investigating the incident.