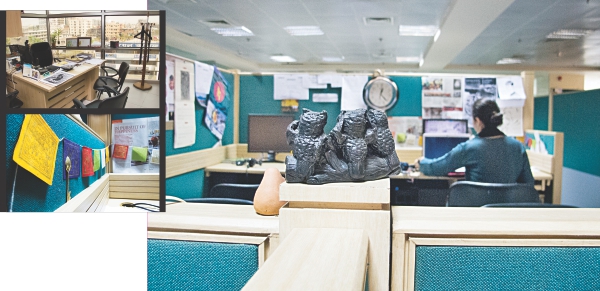 Photo: Sazzad Ibne Sayed
Cubicles all over the world are guaranteed to be identical, nondescript, boring. Unless we take the initiative to spice up those dismal looking walls, sitting in them hours after hours would be next to harsh chastisement. And the usual decorative photo frames and stationary holders, etc. are so old school. So, this week's shop talk focuses on how to make cubicles slightly more appealing.
The basic idea is to give your cubicle some character. Like how we prefer to leave an imprint of our likes and dislikes in our rooms. Aim for something cosy and familiar, so that people can derive some facts about you from the way your cubicle is represented.
Plastics
Now, flowers of any colour always make a world of difference in lighting up any given place but to actually have living flowers in the office is impractical. Hence, you opt for plastic flowers.
Bistar, located in Taneem Square, is famous for its extensive collection of plastic flowers, which look quite real. And if somehow Bistar doesn't meet your floral needs, it is always a good idea to visit the Ground Floor, Gulshan-1 market.
You can buy ethnic flower arrangements, which give a very artistic and traditional feel to your workplace.
Bulletin board
Panelled cubicle walls literally beg for a personal touch. The dullness of these walls are sometimes so excruciatingly unappealing that it's not even funny. Thankfully these are easily remediable by turning them into bulletin boards with the help of some trusted pins or glue. Starting from notes and memos to those pretty birthday cards or candid photos, all seemingly just brighten up the place.
And they are oh-so-useful. Hand-written things, to-do lists or meeting plans, etc. just add to our efficiency and at times having your favourite quote put up to mix in a touch of the feel good factor is also effective.
But if these are two extremes of one being too personal for an office or the other being too formal, you could always stick with option number three: putting in small things such as sticking an A4 size poster of your favourite movie or band.
Photo: Sazzad Ibne Sayed
Clay cosmics
One of the perks of Dhaka city is that on the streets and in some shops, you get such amazing handmade pottery in very small sizes and a variety of colours and designs, its always interesting to pick clay masks or pots to adorn your table.
Theme
Sometimes it's also interesting to theme your cubicles. Like use a selective colour combination and work around it. Apparently it makes work jazzy!
Likewise, in one visit to Jatra or Nogordola you could easily pick up a few small things like an adorable paper bin or some ethnic masks and give the cubicle a mythological twist with  laughing Buddhas or other antiques.
On the other hand, even a single scented candle or stylish paper weight from Aarong or Agora would add a different flair to the place. And it's not even that you have to buy things to make cubicles look good. Completely hand-made pen holders or tissue covers make for a cosy place to sit and work.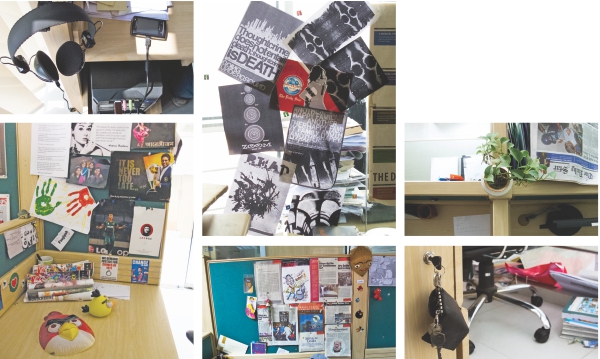 Photo: Sazzad Ibne Sayed