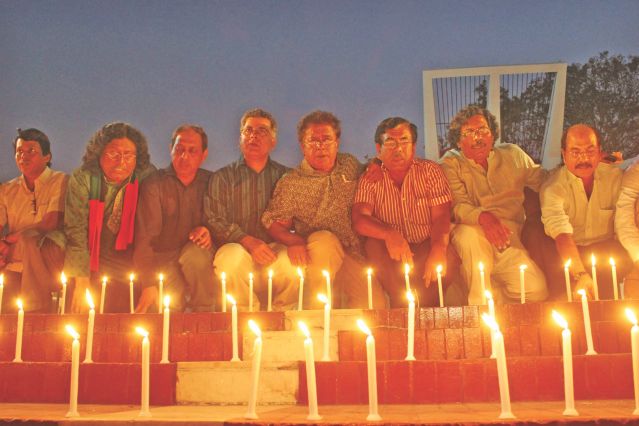 Sammilito Sangskritik Jote lights candles at Central Shaheed Minar in the capital to condemn Jamaat-Shibir's countrywide attacks on minorities. Photo: Star
A cross-section of people yesterday condemned the aggression against minorities across the country and demanded rehabilitation of the victims.
They also demanded a ban on Jamaat-e-Islami and Chhatra Shibir, the attackers, and a judicial inquiry into the acts of communal violence.
The Jamaat-Shibir activists started to vandalise, torch, loot houses and worship centres of minorities, especially Hindus, around the country on February 21 when their leader Delawar Hossain Sayedee was sentenced to death for war crimes.
"Jamaat-Shibir are trying to save the war criminals by provoking a communal riot," theatre personality Mamunur Rashid told a candlelight vigil at the capital's Central Shaheed Minar, organised by Sammilito Sangskritik Jote.
The participants demanded that Jamaat-Shibir be banned.
Students, teachers and employees of Dhaka University demanded a judicial investigation into the violence and said the authorities must ensure adequate supplies to the victims, restore the ravaged temples, and make sure that such incidents did not repeat.
"The scale and ferocity of the Jamaat-Shibir attacks on minorities have shocked Muslims and non-Muslims alike," Dr Imamul Haque, a professor, told a human chain formed by hundreds at Aparajeyo Bangla under the banner of "Dhaka University Family".
At another human chain in front of Jatiya Press Club, cultural and social activists called upon the law enforcers to ensure safety of the victims.
Social activist Khushi Kabir said, "Secularism is our constitutional strength. It is time to get rid of those parties who think that they could threaten it."
Sanjib Drong, a leader of the indigenous communities, expressed concern over the security of minorities.
"There can be religious differences in a country but we have reasons to be concerned when this difference takes the form of intolerance and anarchy," he said.
Columnist Syed Abul Moksud, cartoonist Rafiqun Nabi, rights activist Shaheen Anam, and theatre personality Ramendu Majumdar also addressed the human chain.
Addressing a rally at the capital's Suhrawardy Udyan, ruling Awami League lawmaker Suranjit Sengupta demanded restoration of the damaged temples.
He also said, "According to the Anti-Terrorism Act, Jamaat- Shibir has no right to do politics as they launched violence, arson attacks and killed people."
The religious zealots are targeting minorities to suppress the spirit of non-communalism, said leaders of Bangladesh Hindu-Buddhist-Christian Oikya Parishad and Bangladesh Puja Udjapon Parishad at a human chain in front of Jatiya Press Club.
"We want to live in this country as Bangalees. Let's build a violence-free secular state where people of all religions will live in harmony," said Rana Das Gupta, one of the leaders.
They thanked opposition leader Khaleda Zia for condemning the attacks and urged her to take a firm stand against the perpetrators.
Bangladesh Puja Udjapon Parishad held a press conference in Chittagong city and demanded a judicial inquiry into the communal attacks and rehabilitation of their damaged temples and houses, reports our Chittagong correspondent.
The speakers urged the law enforcers to increase vigilance in the Hindu-dominated areas in Satkania, Lohagara and Banshkhali upazilas where they were attacked.