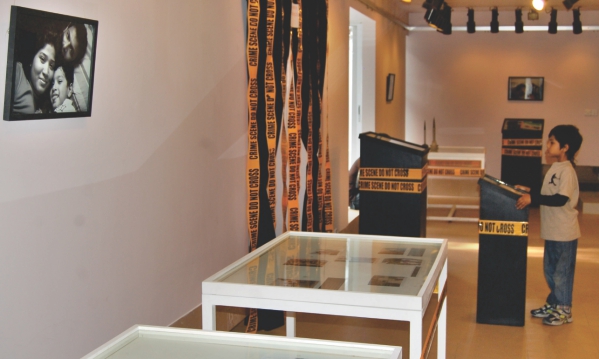 Sagar and Runi's son Megh looks at photos of a happier past. Photo: Prabir Das
On February 11, 2012, a brutal double murder tore apart a beautiful family and outraged an entire nation. As the victims were public figures who had established their careers in the world of journalism, these murders were highly publicised and the demand for justice came not only from the families of the deceased, but from journalists all over the country. Promises were made by the government and orders were issued to capture the culprits within 48 hours of the killings. The then Home Minister Sahara Khatun, included this case in Home Ministry's Monitoring Cell on sensational cases, giving it top priority.  A year later, the investigation remains open, and those in charge of it are no closer to catching the culprits than they were the day they walked into a ransacked bedroom where the lifeless bodies of Sagar Sarwar and Meherun Runi were found by their five-year-old son Megh, who still awaits closure.
The year that followed the murders saw much activity and rumours surrounding the case. Officers of the Detective Branch (DB) who were initially in charge of the investigation, arrested and released and re-arrested a security guard who worked in the couple's building. The bodies of the deceased were exhumed after two and half months to be re-examined. DNA was collected from the crime scene and sent to the US for analysis. The current Home Minister MK Alamgir announced that seven suspected killers had been identified through these tests including caretakers of the building and an alleged family friend whom the family itself failed to recognise. The case exchanged hands from the DB to RAB. Possibility that this was the work of hired killers was explored but the law enforcers and Home Minister remained vague about the details and the mystery that shrouded the case thickened with the passing of time.
"A lot has happened since the investigation started," says Nousher Alam Roman, brother of Meherun Runi, "Our family had to go through a lot, as the course of the investigation changed, their bodies had to be exhumed which was painful for us, especially my mother. There also were many ugly rumours about my sister floating around, and that was difficult for us to deal with. The journalist community was very supportive, but after all our trouble and grief, the results were zero. They found nothing."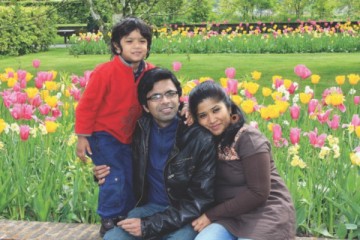 A loving family ripped apart by a senseless tragedy.
Alam believes that efforts made to investigate so far have been inadequate. "There were several flaws in the investigation from what I could see. The police kept telling us that the evidence had been destroyed because the crime scene had been trampled on by many people immediately after the murder, but in my opinion that was probably not the case because RAB has still sealed off their house saying if we go there, the evidence would be ruined, which is confusing and contradictory. If there is still uncovered evidence there after a year, I would say they have not investigated properly. Why did they not try to collect all evidence right after the murder when it was fresh?"
As the investigation changed hands, new problems began to arise. "The officers responsible for it are changing and every time there is someone new, they are starting from the beginning--there seems to be no communication with those previously in charge," says a frustrated Alam. "Every time someone new takes over, we are dragged back into the lengthy interrogation process and are quite frankly, tired of it. They never answer any of our questions regarding their progress with the investigation, which I believe we have a right to ask."
According to Alam, the family never heard from the law enforcement agencies regarding the results of the DNA tests. "We still don't know what came out of it", he says. "They said they identified two people but are not being able to catch them.  The security guard at the building was arrested at the start, and was interrogated by the police and RAB, and after all that, he mysteriously disappeared. Then, just two days before their first death anniversary, he resurfaced and was arrested again. All this is very questionable and is making us wonder if it is all staged."
The families of the deceased are not only facing repeated interrogation by the police and RAB, they are also being harassed and threatened which started soon after the news of the killings became public. "A few days after the murder, my mother and I got some calls," says Alam. "I suppose it happened then because people assumed we were scared and vulnerable, they said they would kill me and my brother because we were 'standing in their way.' They asked us to meet them at a certain place. We reported this to the authorities immediately and they traced the call and arrested a man in Mouli Bazaar from a madrasa there. We knew he wasn't the killer because they wouldn't be that careless. We also got calls from people demanding money or they would kill us the way they did Sagar bhai and Runi apa. I reported each of these calls to the RAB and the DB, but after the first call, I never heard back from them. They just say people are playing pranks on us and trying to take advantage of the situation."
Alam and his family do not believe that this was just a regular robbery-related homicide. "We believe it was done by professionals who were most probably hired by someone powerful and influential. I say this because in the past 25 years, this has been the most talked/written about, prioritised case in Bangladesh and top level officers have been assigned to solve it, and yet, nothing has been done which makes me believe someone powerful is behind it. We have no suspects, but we do know that Sagar bhai was a zealous and dedicated journalist and maybe he came across something someone didn't like, but we cannot be sure."
As the first death anniversary of the brutal double homicide approached, the families of Sagar and Runi decided to make an effort to refresh the memories of what seems to be becoming another cold case file left under a pile of legal paperwork, gathering dust. They organised a photo exhibition where they displayed pictures of the once happy family, smiling into the camera, unaware of their gruesome fate. There were photos of the couple's wedding, drawings by their little son and newspapers bearing reports of their murder, strewn on the floor, all surrounded by the ominous yellow crime scene tape.
"The exhibition was a protest on our part about the lack of proper investigation that has left the murders unsolved. We called the exhibition 'Crime Scene, Do Not Cross.' We wanted to send out the message that we have a right to know what goes on behind that yellow tape that says keep out. We have a right to know the course of the investigation and what they have found. We as a family faced a tremendous loss and we are being treated like we have nothing to do with this investigation. We do not know if we will get justice. Some pictures were of the crime scene and were quite graphic, but we wanted people to see what we went through," explains a grief-stricken Alam.
The families of Sagar and Runi, are slowly losing hope of ever finding out the identity of their killers. The promises that were made in the beginning by ex-Home Minister Sahara Khatun were shamelessly denied as a fruitless year passed by. The media world however, has not lost all faith and will continue to keep Sagar and Runi's memories alive till justice is served.