On the occasion of the 37th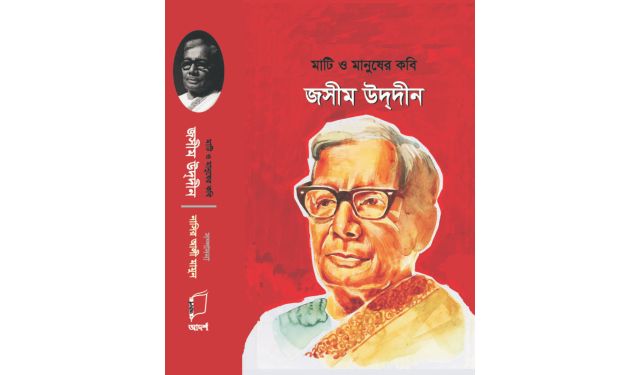 death anniversary of 'Polli-kobi' Jasimuddin, a book titled "Mati O Manush-er Kobi Jasimuddin" will be launched today at Faridpur Press Club.
The book has been edited by noted portrait photographer Nasir Ali Mamun. Adarsha Publication House has published the book. The 900-page book has over hundred articles on the poet.
Contributing writers are: author Alauddin Al Azad; music exponent Dr. Sanjida Khatun; poet Shamsur Rahman; poet-author Syed Shamsul Haq; poet Abu Hena Mustafa Kamal; poet Al Mahmud; educationist Professor Anisuzzaman; educationist Dr. Serajul Islam Chowdhury; Shamsuzzaman Khan, director general of Bangla Academy; poet Abdul Mannan Syed; folklorist Dr. Ashraf Siddiqui; Tagore expert Shibnarayan Roy (India); writer Achintya Kumar Sengupta and others.
Nasir Ali Mamun said, "I have been working on the book for the last six years. I went to Kolkata and many parts of Bangladesh to collect the articles and documents. Eminent writers of Bangladesh and India have contributed to the book."
From childhood to literary life, memorable moments from the poet's life have been documented in the book -- presenting a lively and intimate insight. Readers will get a detailed impression of the poet's contribution to Bangla literature from the book.
The book launch, in Faridpur, will also include a discussion. Professor Mahbubur Rahman, Principal of Faridpur Rajendra College, will be present as chief guest at the programme. Professor Hasina Banu, Principal of Sarada Sundari Mohila College, will be present as special guest. Senior journalist Jagadish Chandra Ghosh; Dr. Jamal Anwar (son of Jasimuddin); cultural activist Altaf Hossain; Tagore expert Dr. Biplob Bala; and publisher Mahbubur Rahman will be present as discussants.
Known to Bengalis as 'Polli Kobi' (folk poet), Jasimuddin's poetry is a testament to the simple, timeless appeal of rural Bengal and folk life. His poetic rhythms are drawn from folk elements -- easy on the ear and quick to embed themselves in the memory. He was also a writer of fine prose -- fluent, witty, and expressive.
Jasimuddin was born on January 1, 1903 at Tambulkhana in Faridpur. He completed BA and MA in Bangla from the University of Calcutta in 1929 and 1931 respectively. In 1938 he joined the University of Dhaka as lecturer. He left the university in 1944 to join the Department of Information and Broadcasting. He continued working there, until his retirement as Deputy Director in 1962.
His first book of verse, "Rakhali", was published in 1927. Other notable books by him include "Nakshi Kanthar Math" (1929); "Shojan Badiyar Ghat" (1933); "Rangila Nayer Majhi" (1935); "Matir Kanna" (1951); "Suchayani" (1961); "Padma Nadir Deshe" (1969) and "Beder Meye" (1951). He edited two books on folk music: "Jari Gaan" (1968) and "Murshidi Gaan" (1977).
Jasimuddin died in Dhaka in 1976 and was buried in his own village.