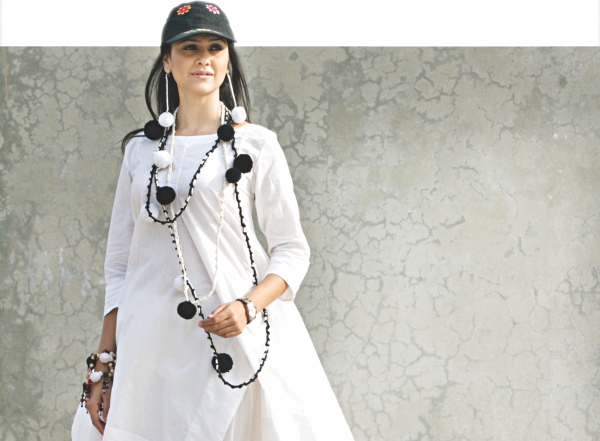 Photo: Sazzad Ibne Sayed
Set in the heart of Road 27, Dhanmondi, Bibi Productions is a charming store, which houses pieces designed by Bibi Russell. The entire outlet is a collection of motifs, colours and elements of Bengali culture -- paintings along the sides of a truck or old-school autos/rickshaws, Bengali cinema posters or ragged dolls from the rural areas, which many of us take for granted. Although Bibi Productions is flashy in its décor, the simplicity of the bamboo racks, stone-hued walls, blinking colours all over the shelves with folk music in the background make the store quite a treat to walk through.
Russell set up Bibi Productions originally in 1995 to promote Bangladeshi textiles in the international market and her designs are reflective of Bangladesh's rich cultural heritage. Using fashion as a tool for economic development in the rural areas has always been the aim of this social enterprise. Her commitment to create awareness and appreciation for the culture is stark in every item in the store.
Gamcha fashion
Thin and pedestrian to Bengali culture, Bibi transformed its value to the status of social art-form. The beauty of the 'gamcha' is in its diversity. It's a functional fashion accessory that bridges invisible social gaps, whether around a rickshawallah's waist or a student's neck. Traditional artisans are finding new ways of supplying this demand.
Although there are heritage-based fashion outlets in Dhaka these days, Russell's pieces are different because of her affinity to Gamcha-based pieces. She does use other traditional textiles such as 'khoddor', cotton, etc., but 'gamcha' is evidently the central theme of Bibi Productions.
The store carries scarves, bags, purses, saris, panjabis, blouses, accessories, etc. made out of 'gamcha'.
Clothes
All pieces in Bibi Productions are either categorised as "Bengali with a Western twist' or 'Western with a Bengali twist'. Thus the fusion pieces such as 'kurtas' and 'fatuas' are made out of 'gamcha', lungi-print or have designs that have trucks and lorries hand painted on the edges. Similarly there are skirts, shirts (for male as well as female), panjabis and salwar kameez sets. The saris are truly exquisite and are made out of traditional textile, especially gamcha of course. They are ornamented with 'kushikata', hand-paint, traditional sequins, etc.
Accessories
Bibi Productions carries bangles, earrings, scarves, purses, handbags, duffel bags, hair bands and even eyewear. Every piece is unique to say the least. Finding handmade fashion accessories in Bangladesh is no big deal, but Russell's pieces stand out because of their eccentric artistry.
Whether it's the oversized fluffy earrings, purses made out of old Mr. Twist Chips packets or hand-painted designs seen on auto rickshaws detailed on the eye glasses and bamboo bangles, Russell's accessories incorporate not only traditional themes but also mix-and-match motifs, materials and styles. The store also carries home décor products -- mats and office/student supplies with a designer's twist.
"Fashion for Development"
Bibi Productions has provided a livelihood to over 30,000 weavers all over Bangladesh, and seeks to employ many more over a wider area. However, its aspirations to touch aspects of life other than simple economic emancipation are reflected in its recent line of pieces made out of recycled materials. Boxes made of bamboo and newspaper, old chips' packets and posters, etc. are some examples. Another way Bibi Productions is working for development is by maturing the fashion culture of Bangladesh in general.
Bibi Russell's work has put Bangladesh and its heritage on the international map. As for the country itself, Bibi's avant-garde, bold ensembles push the overall homogeneity that govern the idea of fashion in Bangladesh. Giving 'gamcha' a fashion identity is one example. Styling models for fashion shoots that are more designer-exclusive and less pedestrian is another. Russell believes designer wear requires an oomph factor that gives it its status as high fashion. And Bibi Productions is out to do just that for Bangladesh.
Photo: Sazzad Ibne Sayed
Model: Airin, Zamsad, Tamanna, Azim
Wardrobe: Bibi Production
Make up and styling: Bibi Russell
Styling: Bibi Russell