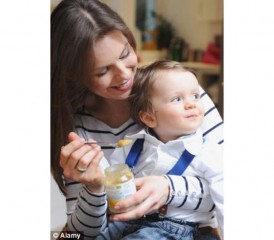 Official figures have shown three-quarters of babies and toddlers are fed too many calories. The photo is taken from UK-based newspaper Mail Online.
The babies, who feed too many calories, are at risk of being obese in later life, experts warned.
Three-quarters of babies and toddlers are fed too many calories, the UK-based newspaper Mail Online reported quoting official figures.
Experts warn that these children, although under 18 months old, are at risk of being obese in later life, the newspaper added.
The number of calories babies need varies hugely depending on their age, how quickly they grow and whether they are active.
But generally infants under six months will not need more than 600 calories a day while those aged six months to a year should not have more than 750.
Yet a survey by the Department of Health shows that on average they are exceeding this amount by more than 100 calories a day.
Tam Fry, from the Child Growth Forum, said the problem was partly caused by mothers giving babies calorie-dense food from jars. In addition, many babies are given formula milk that contains more calories than breast milk.
The figures show that a fifth of infants had never been breast-fed. Fry said: 'Mothers are giving them foods such as ready-made purees which are energy dense but not necessarily nutritious.
'After a short period of time, children want more so they are given snacks which, equally, aren't nutritious.
'Babies are continually being formula-fed which more calorie dense than breast milk.
'Additionally, breast-fed babies stop sucking when they have had enough. The problem with formula feeding is that mothers expect babies to finish the bottle, even if they don't want it.'  Fry said that on average babies given formula milk tend to be a pound (half a kilo) heavier by their first birthday than those who have been breast-fed.
The Department of Health survey, the first of its kind, involved 2,683 babies aged 4 to 18 months, whose mothers were asked detailed questions about feeding habits.
The results show that 75 percent of boys and 76 percent of girls are being given more calories than they need.
A separate study has found that pre-school children are being sent to nursery with lunchboxes packed with sweets, chocolate and crisps.
The Children's Food Trust (CFT), looked at the food of almost 1,500 youngsters attending nurseries, child minders and daycare in Oldham, Coventry and Suffolk.
More than two-fifths (42 percent) of those who brought food from home had crisps, while 24 percent had confectionery.
In comparison, these products were in less than one percent of meals provided by the nursery or child minder.
The study also found that home-packed lunches were much higher in salt.