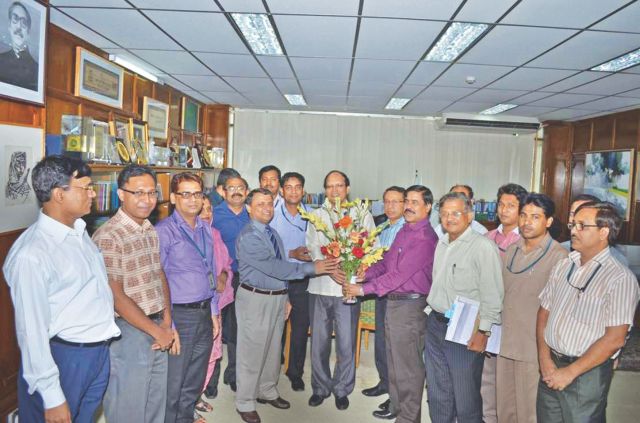 Colleagues congratulate Bangladesh Bank Governor Atiur Rahman at his office in Dhaka yesterday, as the government extended Rahman's tenure until August 2, 2016. Photo: BB
Atiur Rahman's service as the central bank governor has been extended for more than three years.
Rahman will retire in August 2016 when he turns 65, Bangladesh Bank said in a statement yesterday.
In his new term, Rahman said he would strengthen his efforts to fight unethical practices in the banking sector.
"We will not tolerate any unethical practice anymore," Rahman said, apparently referring to the Hall-Mark scam that involves Sonali Bank.
He said the BB would focus more on financial inclusion and stability.
Rahman also said the central bank would increase IT-based supervision as it continues to encourage banks and other financial institutions to adopt modern technology.
The BB will also cater to people, especially the unbanked people across the country, and take banking services to more people through modern technology.
Rahman's current tenure will expire on April 30. He joined the central bank on May 1, 2009 for four years as its 10th governor.
Government officials and his colleagues said his term has been extended based on his outstanding performance and competence.
Rahman worked closely with Finance Minister AMA Muhith in ensuring economic resilience.