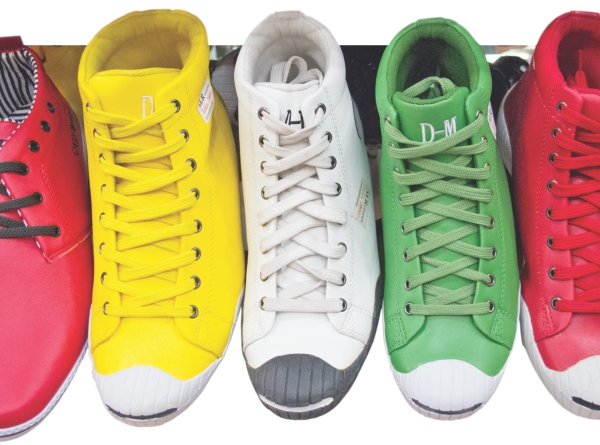 Photo: Sazzad Ibne Sayed
There is a fine line between attention-grabbing and gaudy. Far too often though, one tends to cross that line and move onto the more negative side. This is especially true when it comes to selecting the right apparel. Since spring is a signal for bright colours, mismatched assortments of red, green, blue and magenta among others rule the roost. Lime Green T-shirt with red skinny jeans? That's not fashion; it's an emergency call to the fashion police. If you love bright colours but want to remain sophisticatedly loud, why not opt for brightly-coloured trainers? They draw just the right amount of attention and can complement your wear without making you look like a rainbow.
Your footwear can be your saviour on many occasions. Since men like to keep it a little conservative, trainers can help make that colourful statement without going overboard. The options too are quite numerous, regardless of where you are. After all, it's spring and you might as well get into the spirit of things. Before you run out to add that little bit of brightness to your shoe closet, consider the colours you can actually mull over. Then you can move on to brands and the right kind of assortment.
For men, you can opt for sky blue, red, yellow, green or just blue. Women can go for all those colours with the addition of pink and purple. See, colours help you make the impression of being a fun, easy-going person. Unless you are a Goth, the personality traits discussed are pretty appealing to everyone else. Plus, the light-hearted nature of the colours also makes it easy on the eyes. Since, it's on your feet, it can't be too overpowering.

Vans, Converse, Adidas, Nike and Puma are the ones available in most shops here. All of their collections include the colours discussed. Vans' checkered designs are still popular, with the "Off the Wall" line having transcended from punk-rock wear to almost every other genre. Converse remains timeless. It also allows you to mix and match colours instead of choosing any solid one. Adidas has the most creative range this season, making your trainers more than an orgy of colours, taking up many forms such as the must-have Jeremy Scotts's Adidas Original Eagle Wing shoes. Puma comes off as decidedly more conservative but they can take a bold turn depending on what you wear them with. Top your blue suede shoes with a blazer if you have one!
Black/dark jeans seems to be the best option topped off with a solid coloured t-shirt. Although you may match your tee with your trainer, try to then keep your pants less offensive in colour by opting for white or black if possible. Usually, to blend sass and sophistication, we suggest dark jeans with white tees or such light solid colours. Too many colours is usually too much to handle, unless you are a clown, in which case you don't really need fashion advice.
You can never be too old for colourful trainers really. So, add a little joy to your life, be a little bold and complement that song in your heart with the new spring in your every step!