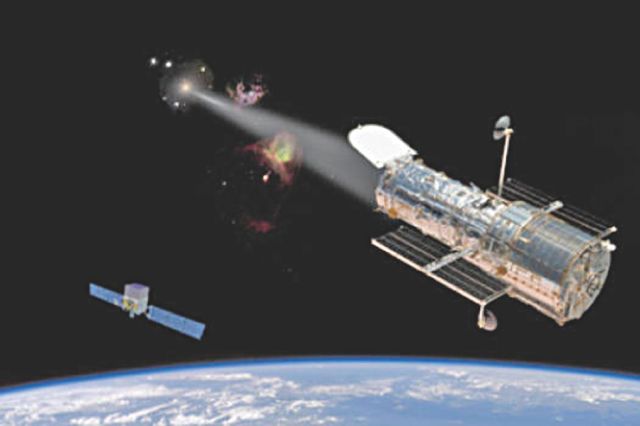 Artist's concept of the Hubble Space Telescope viewing ultraviolet light from the jet of the active galactic nucleus of PKS 1424+240.
Blazars are the brightest of active galactic nuclei, and many emit very high-energy gamma rays. New observations of the blazar known as PKS 1424+240 show that it is the most distant known source of very high-energy gamma rays, but its emission spectrum now appears highly unusual in light of the new data.
A team led by physicists at the University of California, Santa Cruz, used data from the Hubble Space Telescope to set a lower limit for the blazar's redshift (z = 0.6035), which corresponds to a distance of at least 7.4 billion light-years. Over such a great distance, a substantial proportion of the gamma rays should be absorbed by the extragalactic background light, but calculations that account for the expected absorption yield an unexpected emission spectrum for the blazar.
"We're seeing an extraordinarily bright source which does not display the characteristic emission expected from a very high-energy blazar," said Amy Furniss, a graduate student at the Santa Cruz Institute for Particle Physics (SCIPP) at UCSC and first author of a paper describing the new findings. The paper has been accepted for publication inAstrophysical Journal Letters.
Source: Science Daily