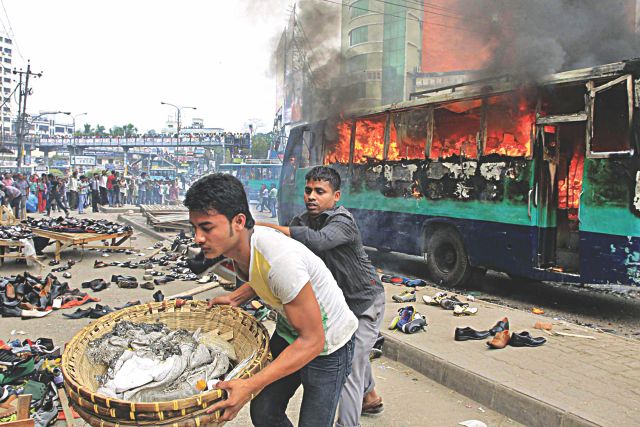 REMINDER FOR PEOPLE: A bus was set on fire at Farmgate in the capital yesterday afternoon, reminding people that the opposition's 36-hour hartal begins today. Two shoe vendors gather their merchandise after the arsonists scattered the shoes over the footpath. The pre-hartal violence saw at least 23 vehicles torched and around 40 others vandalised. Photo: Star
BNP-Jamaat men torched and vandalised more than 60 vehicles in the capital yesterday, creating panic among city residents on the eve of the BNP-led alliance's 36-hour countrywide shutdown from this morning.
Pro-hartal pickets set fire to at least 23 vehicles and damaged 40 more at different parts of the capital till 10:30pm yesterday, said police.
The 18-party combine is going to enforce the shutdown, demanding the release of 154 BNP leaders, who were arrested on March 11 from BNP's Nayapaltan office.
In an incident of pre-hartal violence last night, three physicians were injured at Hatirjheel in the capital, as pickets hurled a crude bomb at their car.
Of the injured, Rakibul Alam, 37, who suffered 39 percent burns to his body, was in a critical condition, said doctors at Dhaka Medical College Hospital.
The other injured Omar Faruk Babu was receiving treatment at the hospital, while Raihan Sharif of Directorate General of Health Services was released after he was given first aid.
Raihan said he along with Rakibul and Omar, who work at Comilla Medical College Hospital, was travelling by a car to Rampura from Agargaon.
When the car was crossing Hatirjheel around 8:30pm, someone threw into the car a bottle that instantly burst into flames, he said.
However, Iqbal Hossain, officer-in-charge of Badda Police Station, said police rushed to the scene but didn't find any trace of combustible substance there. The car might have caught fire for overheating of engine, he said.
Meanwhile, the business community has voiced concern over the frequent shutdowns and the recent violence.
The BNP-led alliance has enforced hartal for five days this month. And BNP's Dhaka district unit has threatened to enforce a daylong hartal on Thursday in Dhaka unless the opposition leaders are freed by Wednesday.
Sylhet Jamaat unit called hartal in the division for March 20, protesting the arrest of one of its leaders yesterday.
The shutdown, which has become a common political programme of the opposition to put pressure on the government to see their demands met, affects all across the board -- from export-oriented firms to day labourers.
Expressing concern over the recent shutdowns and countrywide violence, country's top business leaders said they would sit on Wednesday to decide their next course of action.
Kazi Akram Uddin Ahmed, president of Federation of Bangladesh Chambers of Commerce and Industry (FBCCI), said, "Our country faces financial loss and damage for every shutdown, and we are worried this time."
"We are repeatedly urging the political parties to sit and settle their differences. But nobody is paying heed to it. The situation is getting from bad to worse day by day," he told The Daily Star over the phone.
Akram said he wrote to BNP Chairperson Khaleda Zia and Jatiya Party Chairman HM Ershad, and sought their appointments to discuss how the business community can help the politicians hold dialogue to break the current political deadlock.
"I haven't got any response from BNP yet, but Jatiya Party has responded positively."
The BGMEA and the BKMEA have also expressed concern over negative impacts of shutdown on the economy, and urged all political parties to avoid such programmes.
In a statement, Dhaka Sarak Paribahan Samity said owners and transport workers here decided to run vehicles across the capital during the hartal.
In a pre-hartal showdown, activists of Jamaat-e-Islami and its student wing Islami Chhatra Shibir went on the rampage at Purana Paltan, Nayapaltan, Kakrail, Motijheel, Malibagh, Farmgate, Kalyanpur, Khilgaon, Gulshan, Khilkhet and Old Dhaka since yesterday afternoon.
They torched at least 23 vehicles at Purana Paltan, Nayapaltan, Kakrail, Malibagh, Khilgaon, Sher-e-Bangla Nagar, Farmgate, Kalyanpur and Old Dhaka, said police.
Jamaat-Shibir men went berserk following the arrest of Ehsan Mahbub Jubair, ameer of Jamaat's Sylhet city unit, early Sunday from a Uttara hotel in the capital on charges of conspiring against the government.
Meanwhile, the 18-party alliance brought out a procession in Chittagong on the eve of the 36-hour shutdown.
In Magura, BNP men vandalised at least three trucks at a bus stop and damaged showrooms of Butterfly, Singer and Walton on Syed Ator Ali road in the afternoon.