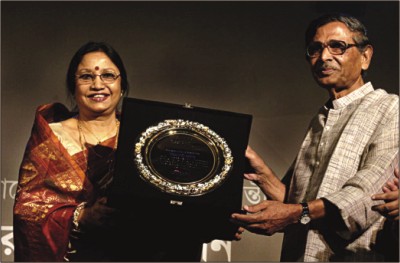 Veteran artiste Ferdausi Rahman was honoured at the Radisson Water Garden Hotel on July 17. As part of 'Gunijon Shongbordhona' programme, Ferdausi Rahman was greeted with a standing ovation at the event. Her melodious voice and popular songs have found a special place in the hearts of millions. A legion of A-list stars paid homage to Rahman with special performances and moving words on her contribution. The theme of this year's programme was "Aji jhoro jhoro mukhoro badolo diney."
Noted litterateur Professor Abdullah Abu Sayeed felicitated Rahman on the occasion and presented a brief bio of the artiste.
As part of the award the singer received a crest and a cash prize of BDT 50,000.
In her speech, Ferdausi Rahman said, "Through patronage of arts and culture, forces of evil can be effectively resisted." Reminiscing her childhood, Rahman said that she grew up in a musical atmosphere. Her father, legendary folk artiste Abbasuddin Ahmed, played a significant role in her grooming as a vocalist. Rahman said that in the olden days singing was not considered a profession. Things have changed for the better, and people are now pursuing careers in music. "However, we have a long way to go. Young, aspiring singers today consider the reality shows and talent hunts on TV as instant passport to fame and money. Undivided dedication is required if one wants to be a true artiste," she said.
Moreover, she said, "Our country needs able classical music teachers. When parents ask me, where they can take their children for classical music taalim (training), I can't readily think of anyone."
She added, "We may go to neighbouring countries such as India or Pakistan, or invite renowned ustads to our country to train our singers in classical music."
The first performance at the cultural programme on the occasion was by Tagore singer Aditi Mohsin. Mohsin opened her performance with the song "Badol diner prothom kodom phool," an ode to monsoon. Next she rendered "Amar nishith-o raater badoldhara." Auditi ended her performance with "Saawan gaganey ghor ghanaghata," a song from "Bhanu Singh-er Padaboli."
Next on stage was Nazrul singer Sujit Mustafa. Mustafa performed a popular Ferdousi Rahman song "Ami shagor-er o neel," as a tribute to the artiste. A Nazrul ghazal "Piya piya papiya pukarey" and "Ami jey jalsha gharer," followed.
Zahir Alim (son of the late folk maestro Abdul Alim) performed some evergreen Abdul Alim songs -- "Holudia pakhi," "Porer Jayga porer jomi" and more.
Shakila Zafar the last artiste to perform sang "Ami roopnagar-er rajkonya," "Bhulitey parina" and "Tumi amar prothom shokal."
The event was organised by Citibank, N.A.