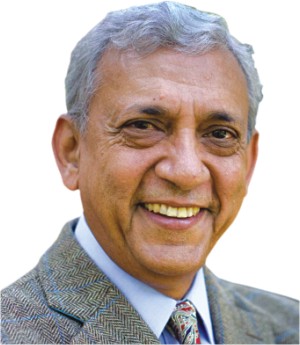 Dr Gowher Rizvi, an internationally renowned political scientist, has been appointed adviser to Prime Minister Sheikh Hasina.
"The Prime Minister today appointed Dr Gowher Rizvi her adviser under the rule 3B(i) of the Rules of Business, 1996," said a handout yesterday.
Dr Rizvi, the immediate past director of the Ash Institute for Democratic Governance and Innovation at Harvard University's John F. Kennedy School of Government, will enjoy the rank and status, salary-allowances and other facilities similar to a full minister.
Sources said in the recent times he met the prime minister twice. With the latest appointment, now the panel of advisers to the PM is seven strong.
Rizvi was the vice-provost for International Programs at the University of Virginia, USA from August 3, 2008 to 2009.
He was the Ford Foundation's representative for South Asia, New Delhi office from 1998 to 2003 and deputy director, Governance & Civil Society at New York office from 1995 to 1998. He was the director of contemporary affairs of The Asia Society, New York from 1994 to 95.
Dr Rizvi was the United Nations' Coordinator for Afghanistan, Geneva, Islamabad & Kabul from 1988 to 90. He has worked recently as the consultant of UNDP for reforming civil service change management in the country.
He authored a number of books that include South Asia in a Changing International Order; South Asian Insecurity and the Great Powers; Bangladesh: The Struggle for the Restoration of Democracy; Perspectives on Imperialism and Decolonization; and Linlithgow and India.
He is the founding editor of Contemporary South Asia, an academic and policy studies journal published from Oxford.
Rizvi earned a double first in BA honours and MA from the University of Dhaka while DPhil from Trinity College, Oxford, where he studied as a Rhodes Scholar.