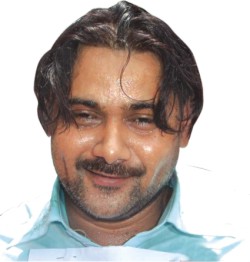 Detectives suspect that more than 150 highly paid agents have been working in the country for international mafia don Daud Ibrahim and that his second-in-command "Chhota" Shakil has been dealing with their payments.
The Daily Star had an exclusive interview of Chhota Shakil's close aide, detained Abdur Rauf Daud Merchant, in the custody of Detective Branch of police. During the interview he said he managed a Bangladeshi passport with fake documents for Tk 50,000 through a broker.
Daud Merchant said Chhota Shakil, who is now staying in Dubai, sent him to Bangladesh and that Shakil sends money to all his Bangladesh agents through a money exchange firm.
A senior DB official said, "We are confident that Daud [Ibrahim] has more than 150 agents in Bangladesh who are paid monthly by Chhota Shakil."
Earlier on May 27, DB officials arrested Chhota Shakil's close aides, Indian nationals Daud Merchant and Zahid Sheikh, along with their Bangladeshi host Kamal from Brahmanbaria.
The DB is interrogating them on an eight-day remand from Saturday.
DB sources said fugitives in India, both Merchant and Zahid managed Bangladeshi passports and fake nationality certificates. Zahid also managed a national identity card.
On their Bangladeshi passports, Merchant adopted the name Abdur Rahman and Zahid took the name Arif Sheikh.
Talking to The Daily Star, DB Deputy Commissioner Monirul Islam said, "So far as we know, Daud Ibrahim and Chhota Shakil have some agents in the country and we are trying to trace and arrest them.
"During interrogation Merchant, Zahid and Kamal admitted that Chhota Shakil may have many other people staying in Bangladesh," he said.
"We will also investigate how Merchant and Zahid managed the fake passports and certificates," he added.
According to DB officials, Brahmanbaria Municipality Mayor Hafizur Rahman Mollah issued the nationality certificate and a birth registration certificate to Merchant.
Councillor Mohammad Faruk Miah of the municipality certified that he has known Merchant for the last 10 years.
When contacted over phone, Brahmanbaria Municipality Mayor Hafizur Rahman said, "I signed the certificate after the councillor and a doctor certified him [Merchant]."
While admitting the mistake, he raised the question how could they dodge the police.
Talking to The Daily Star, Merchant said, "It is not impossible that Daud Ibrahim and Chhota Shakil have agents in the country. But I do not know anybody."
Merchant denied all allegations of setting up a network and other plans. "I have come here only to hide and I have been trying to start a business," he said.
"I have managed a passport, fake nationality certificate and other papers as documents so that I can obtain a trade licence for importing motorbike from Mumbai," said Merchant, adding, "I have never met and talked to Daud Ibrahim. But I had regular contact with Chhota Shakil. It is not known to me whether Daud Ibrahim and Chhota Shakil have visited Bangladesh."
Merchant, 39, has mother, a brother, wife, a 14-year-old son and a 12-year-old daughter in Mumbai.
Asked why he killed Gulshan Kumar, he denied killing him and said a person named Anil Sharma killed Gulshan Kumar and that he was implicated in the case with false charges.
DB sources said they identified Zahid and Merchant by tracking their mobile phones and arrested them by trapping them through Zahid's detained girl friend.