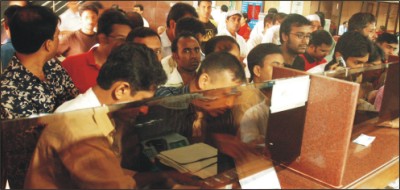 Although commercial banks witnessed large volumes of transaction yesterday, the last working day before the Eid-ul-Fitr celebration, inter bank call money rate remained steady due to excess liquidity in the banking system.
The call money rate slightly increased to 8.50 percent yesterday against 8 percent on Wednesday.
The call money rate normally hovers between 25 percent and 30 percent ahead of Eid festivals, banking sources said.
A large number of clients thronged banks to withdraw cash ahead of the Eid. Long queues were seen in almost all branches of banks, both government and private ones, in the capital.
An official of Sonali Bank said, "Usually per day withdrawal of money by clients at his Motijheel branch stands at Tk 30 crore to Tk 35 crore. "But clients withdrew about Tk 100 crore yesterday from my branch," he said.
Private bank branches also experienced a huge number of clients. A private bank high official said depositors yesterday withdrew Tk 3crore from his branch in Motijheel commercial area. Usually, the depositors withdraw Tk 60 lakh a day from the branch.
According to the available data, the amount of excess liquidity with the banking system has been Tk 14,283crore.