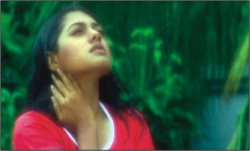 TV play Ebong Gladiolus
Written and directed by Shamima Shammi, special TV play Ebong Gladiolus will be aired at 11:30 am on the day of Eid. The story revolves around a mother and daughter duo. Abanti, the daughter is brought up according to the dictates of her mother. However, the fiercely independent Abanti and her mother are separated by generation gap. Tisha, Shahed, Anisur Rahman Milon and Lina Ahmed take on the leading roles in the play.
Tele-film Swapner Shimanaye
Telefilm Swapner Shimanaye will be aired on the day of Eid at 3:45 pm.
Written by Aniket and directed by Fazlur Rahman, the tele-film revolves around Pratik and Simoni, two university students in love. Simoni comes into Pratik's life as a personification of his dreamgirl. However, Simoni cherishes the ambition of going abroad with her husband to be. The cast of the tele-film includes Sumaiya Shimu, Mahfuz Ahmed and Shams Sumon.