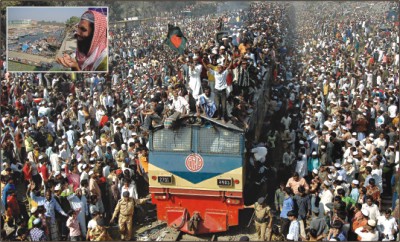 Over two million Muslim pilgrims from home and abroad took part in the Akheri Munajat (final prayer) of Biswa Ijtema, the second largest Islamic congregation after the hajj, seeking divine blessings from the Almighty for the Muslim ummah.
The chief cleric, Moulana Jubayerul Hassan from India, led the prayer and sought global peace and prosperity, an end to worldwide conflict and anarchy.
The three-day World Congregation of Muslims mainly focused on prayers and meditation for spiritual adulation, exaltation and welfare of the Muslim community.
President Iajuddin Ahmed, Prime Minister Sheikh Hasina, leader of the opposition in parliament Khaleda Zia, former Chief Adviser Fakruddin Ahmed, and ministers, among others, joined the Akheri Munajat.
A record number of 10,500 foreign devotees from 105 Muslim countries joined the congregation that kicked off on January 30 this year.
The highest numbers of overseas devotees were from India, Pakistan, the Maldives, China, Japan, Turkey, Malaysia, Saudi Arabia, Abu Dhabi, United Arab Emirates, Bhutan, Nepal, USA, UK and Nigeria.
The gargantuan gathering of devotees irrespective of old and young spilled over the Ijtema ground into the adjacent roads stretching from Biswa Road Bus Stand to Cherag Ali Market in Tongi turned the whole area into a human sea.
The Akheri Munajat started at about 1:15pm and ended at 1:35pm and during the period Moulana Jubayerul Hassan delivered his spiritual sermon in Urdu urging all the people to come to the path of Allah.
President Iajuddin Ahmed arrived at the sprawling venue of Ijtema ground at 10:40am and sat on a stage beside the main stage while Sheikh Hasina arrived at 10:30am and had a full view of the congregation from a podium built at the Bata Sports Club premises, adjacent to the Ijtema venue.
Leader of the opposition Khaleda Zia arrived at the Ijtema at about 11:00am and sat on the top of the Atlas Bangladesh Ltd building.
Their family members and party leaders accompanied both the Prime Minister and leader of the opposition.
As many as 44 special trains and a number of BRTC shuttle bus services have been arranged to ease the transportation of pilgrims to the venue. But the arrangement appeared to be inadequate compared to the huge gathering.